Doane Wins 400 Meter Title at Tri-Valley Meet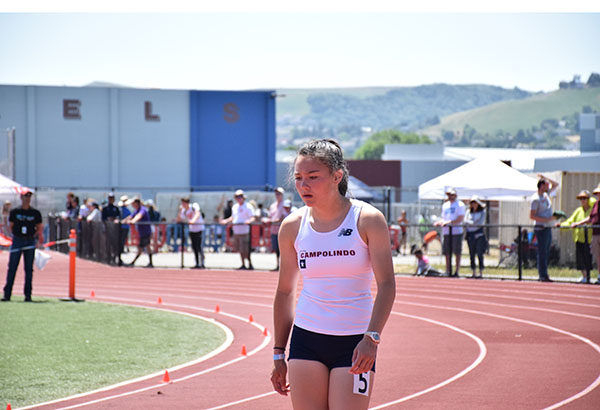 Varsity track and field athletes competed at the North Coast Section (NCS) Tri-Valley Area Championships against top athletes from the Diablo Athletic League, East Bay Athletic League and the Bay Valley Athletic League on May 11.
Hosted at Dublin High School, the top 7 finishers in each event earned advancement to the NCS Meet of Champions on May 17. According to Head Coach Tim Hunter, "the meet is all about just surviving, so it is about not having a terrible day and not moving on."
Senior Maddy Doane won the 400 meters and placed second in the 200 meters. Sophomore Terryal Bell placed 16th in the 100 meters with a time of 12.86, 10th fastest in school history.
Juniors Alicia Hober and Paloma Hancock both advanced in the 1600 meters placing 4th and 6th, respectively.
Freshman Sara Tabibian placed 2nd in the 300-meter hurdles.
The 4×100 meter relay placed 6th and the 4×400 meter relay placed 3rd.  Doane contributed the fastest legs on both squads.
"Maddy has been a huge inspiration to everyone on the relay team, especially to me. She's always encouraging us to push ourselves and stay positive before races when everyone is really nervous. She's been a really big part of our relay team and we couldn't have made it this far without her," said Freshman Emily Hatch
Senior Lucas Moore placed 6th in the discus while Edward Buckley finished 7th in the 3200 meters. Hunter classified Moore's advancement as a "nice surprise."
Although he placed 10th in the 1600 meters, Cayden Hein advanced due to competitors who dropped out of next week's race in order to prioritize another race or due to injury.
"Overall, I was so proud of everyone at Tri-Valley and I think the performances there were really attributable to the work everyone put in during the season and offseason. There is a lot of promise in this team because we have so many younger athletes so I think there is a lot of opportunities to come that will be really exciting to watch," said Ellie Guthrie.