4th All-Time Mark Earns Buckley CIF Spot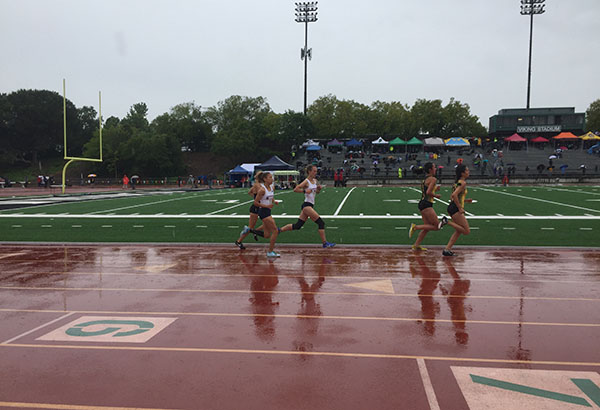 Seeded 15th, senior Edward Buckley shocked a field of state-meet contenders in the 3200 meter race at the North Coast Section (NCS) Track & Field Meet of Champions on May 18 to finish 3rd, securing the final CIF qualifying spot in the 4th fastest time ever run by a Campolindo athlete.
The meet, which was held in wet conditions at Diablo Valley College, brought tougher the top athletes from the entire section.
After sticking in the lead pack through 7 laps, Buckley held off a late charge from 4th place finisher Christopher Middleton-Pearson of Dublin. "It's a dream I've been dreaming of since my sophomore year and it finally came true. It's amazing," said Buckley.
The girls' 4×400 relay team also earned advancement to the state championships, to be held May 24 at Buchanan High School in Clovis.
Sophomore Terryal Bell held 5th place before handing the baton to Maddy Doane. Doane moved the squad to 3rd on her leg. Freshman Emily Hatch held on to that position before passing the stick to Sara Tabibian. After battling with a trio of athletes for most of her leg, Tabibian surged at the tape to finish 2nd.
"I feel great. The conditions were kind of off, but it was  a great race and great competition and I am happy with the time I ended up with and it was just amazing to race at the meet of Champions finals," said Doane.
Tabibian had previously earned individual advancement to state in the 300 hurdle race, where she finished 3rd.
"Campolindo spirit and the support from all our coaches and teammates helped us achieve our goals and served as a motivation for us to surpass others in our races," said Tabibian.