Doane Leads Track Win with School Record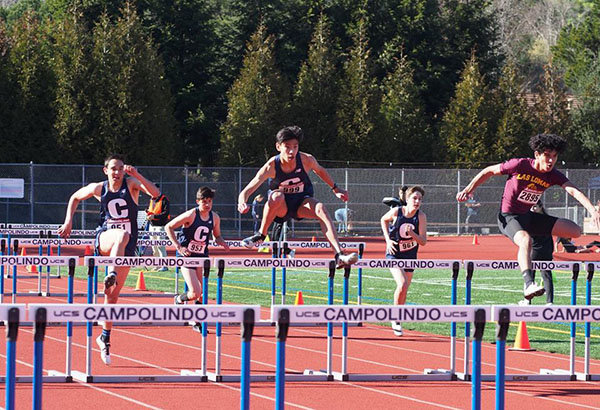 Senior Maddy Doane won both the 100m and the 200m races against the visiting Las Lomas Knights on March 13 in the 2nd Diablo Athletic League dual meet of the spring season. 
In the 200m, Doane ran 24.99 seconds, a 1.42 second improvement, making Doane the 5th fastest girl in California. The mark is also the new Campolindo school record.
The frosh-soph girls, varsity girls and frosh-soph boys each came away with a team victory.
The frosh-soph girls' squad defeated the Knights with the help of freshman Jeanette Lavoie, who added 6 inches to her pole vault best. "I am pretty happy that I was finally able to clear 7-6 in pole vault, but I am a little bummed that it could not go up higher," she said.
Meanwhile, freshman Amelia Asuncion improved with a 20 foot-5.75 inch toss in the shot put and a 58 foot-7 inch throw in the discus.
Freshman Sara Tabibian won the varsity girls' 300m hurdles with a time of 50.29 seconds and junior Olivia de Paschalis made a 2-foot improvement in the varsity girls' long jump.
In the frosh-soph boys' competition, sophomore Kyle Moe improved to 48 feet-1 inch in the discus and 17 feet-3.25 inches in the shot put. "I have worked hard to get where I am now and I hope to get better," said Moe.
Freshman Hardy Dolge beat his previous 110 hurdle mark by 5 seconds.
Senior Eric Fossen beat his personal records in the shot put and discus. Fossen added 8 feet to his best discus toss.
Junior Joel Kofman improved in the 300 hurdles by 2 seconds but was beaten by Las Lomas' Madhi Aziz, who ran 43.63 seconds.