Soccer Advances to NCS 2nd Round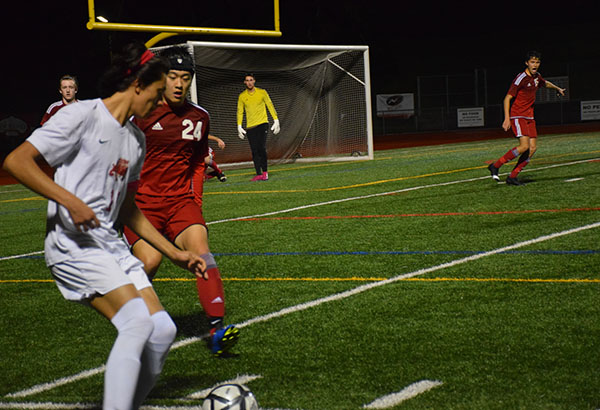 After beating San Rafael in the 1st round, the boys' soccer team was defeated by Sir Francis Drake in the 2nd round on February 16, ending the Cougar's season.
While neither team scored in the 1st half, Sir Francis Drake scored twice in the 2nd.
Senior Emmet Morgridge provided the only goal for his squad, as Campolindo fell 2-1.
According to junior Jamiel Liu, "In the 2nd half, we didn't really play poorly. I think we actually put more effort into the 2nd half. I want to say they got lucky. I know you never want to put it to luck, but they got lucky on I think both their goals and we came back with 1 goal but it was too late. "
Liu added that the team expected this game to be more difficult due to Sir Francis Drake's strong performance at the Marin County Athletic League championships and their regular season winning record.
In spite of the loss, the Campolindo squad did manage to improve over their 2017-2018 season. "For a team that didn't make playoffs last year I think we came out really well," Liu said.
In the 1st round, the boys beat San Rafael High School 2-0.
Junior Kellen Clancy and senior Nathan Links scored the goals in the 1st half. According to Coach Rodrigo Diaz-Vialdes, the lack of scoring in the 2nd half was due to switching to a more conservative offense in order to protect the lead. 
Diaz-Vialdes added that prior to the 1st game of NCS, the team had to prepare for windy conditions and a game with less focus on possession. "So knowing that we played players slightly out of positions, we had players that were more technical playing out on the wings. So that we could offer a different, more direct approach," he said.