Track Needs Top Talents for Title Run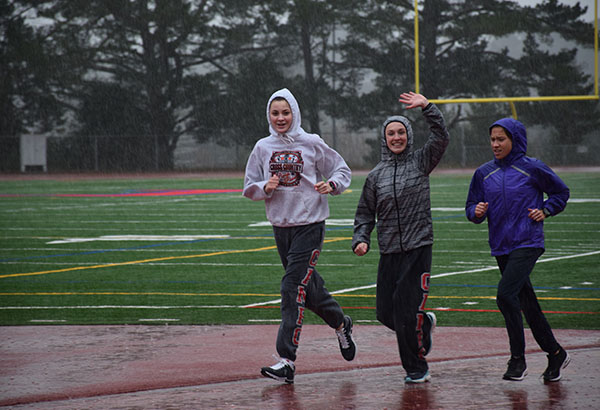 The track and field team last won a varsity championship title in 2015 when 1600 and 3200 meter school record holder Brighie Leach led a dominating Campolindo contingent in the distance events while Kelley Wirth set a school record to win the high jump and help the varsity girls upend perennial league powerhouse Miramonte.
This year's varsity athletes are hoping to end the 3-year DAL title drought. "That should be something we try and change. We should anchor it around our long distance running team and hopefully pick up some points in key special events that we can take advantage of because of a lack of competition," said junior distance runner Sam Morach. 
The girls' squad will ride the talents of returning NCS Meet of Champions qualifiers senior Maddy Doane and junior Alicia Hober.  Doane set the 200 meter school record in 2018 while Hober showed promise with solid marks in the 1600 and 3200 meter events.
"I'm hoping we'll just get as many people as we can to qualify for MOC (Meet of Champions)," said Hober.
Doane, who only began sprinting for the Cougars as a junior, hopes to improve on her rookie season . "My goal is to get prepared during the winter so that I am strong enough to compete during the spring. I would like to beat my personal best time in the 200 and maybe beat Mrs. Adams' time in the 400."
Alison Adams, now a physical education teacher at Campolindo, is still the school record holder in the 400 meters.
Monarch said, "We should be ambitious and try and get both teams to win overall come DAL champs."  The last time Campolindo finished the season with both a boys' and girls' league championship was in 2010, when all-time greats Matt Keeble and Hadley Swanson were dominating the sprint and jumping events.
According to coach Tim Hunter, the key to a competitive track team is having a couple of aces who can win multiple events. "I think the big part of it is you need to have someone step up. Like on the girls side in frosh-soph, last year with Ellie Guthrie winning 3 events, some people have to step up and have a big day on the day," said Hunter.
The Cougars will begin their quest on January 28, the first official day of the 2019 spring sport season.