Girl's Volleyball Beats Familiar Foe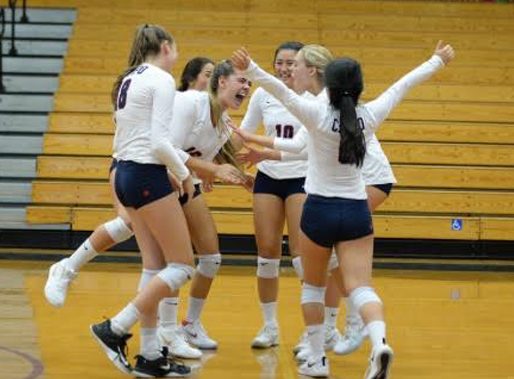 The girl's varsity volleyball team defeated longtime rivals, the Bishop O'Dowd dragons, in a 3-1 match on August 28.
Campolindo and Bishop O'Dowd have faced off several times in the section championship match, including last year when the Dragons claimed the title, contributing to the intensity of the rivalry.
The win "meant a lot" to the returning players, said senior and co-captain Sarah Carasco, especially after their loss at last year's NCS final match.
"We all were very focused the day of the game. We had a team lunch, and warmed up really well," added sophomore Kate Dendinger, an outside hitter. "Everyone was ready to play."
Although the current Cougar squad is young, sophomore returner Molly Mitchell said the crew had positive energy that carried them throughout the game. "Everyone thought we were going to lose by a lot going in," she said. "But during the game with the score being so close, I knew we could pull it off. Even though we are a young team, we proved we still can compete."
Although Campolindo lost a back-and-forth first set 19-25, the team rallied to win the next 3 sets, including a 25-15 victory in the final set. "It's almost surreal we won. Everyone ran onto the court jumping and screaming," said Mitchell, who scored the final point by stuff blocking an attempted setter dump.
UCLA bound setter and junior co-captain Audrey Pak finished the game with 38 assists. Junior and co-captain Sophia Newman terminated 14 kills, followed by senior Elizabeth Canon, who racked up 12.
The coaching staff was "very pleased" with the win, and is looking forward to fine-tuning at practice to keep the team sharp.
"Since we started off our season with such a bang, we now need to focus on our goal: to make it back to the NCS finals and finish what we started," said Carrasco.