Moore Defends NCS 800m Title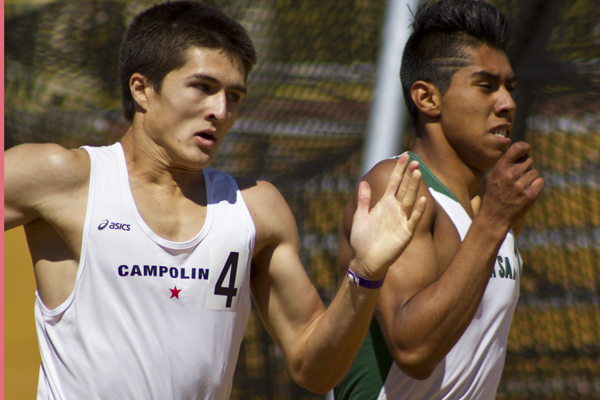 Senior Niki Moore successfully defended his 2016 NCS 800m title, winning the event at the Meet of Champions on May 27 in UC Berekely's Edwards Stadium.
Moore advanced to the MOC by virtue of a season best 1:54.93 at the Tri-Valley Area Championships held at Foothill High School the week prior. Saturday's NCS race was tactical, with the lead pack coming through the 1st lap in a pedestrian 59 seconds.
Moore managed to run the final lap in 56 seconds, winning the race in a time of 1:55.50.
"Despite the race not starting how I wanted it to, I stayed confident in my closing speed. I haven't been in a race this year that has started how I wanted it to so I'm used to having to edit my strategy during the race," said Moore.
"As a returning champion, the expectation for him was to win the race," said coach Chuck Woolridge, who is taking the trip down to the state championship with his top middle distance runner for the 2nd time in 2 years.
For the state meet on June 2 and 3, Woolridge said "the goal is to advance to the final and win a podium spot."  The CIF recognizes the top 6 finishers in each race at the championships as medal winners.
Moore was not the only Campolindo athlete to run well at the meet in Berkeley. Juniors Jenna Miles and Hannah Ruane finished 6th and 9th, respectively, in the 3200m race. Miles' PR of 10:49.83 moves her to 5th all-time in school history for the event.
"Given the ups and downs of [Jenna's] career, it is a credit to her that she's has remained focused on her training," said Woolridge. "She's run the fastest 3200m for our program since Toni Finnane and Brighie Leach made the state meet in 2015."
Senior Jared Yabu capped his high school career running a 3200m season best 9:31.5, placing 11th in the elite field.
Senior Juliet Arnswald competed in the 100 hurdle and 300 hurdle trials on Friday, May 26. Junior Ashley Thoms also competed on Friday in the triple jump.