Campo – A Welcoming Campus For This Years' Freshmen
You're back at the end of eighth grade. Everyone is talking about highschool, but you don't know what to expect. Some people are dreading it, while others are very excited. The first day of school arrives, and you are exposed to an entirely new environment. Even though there is a trend of disliking freshmen, such as upperclassmen booing them at rallies, the school still finds a way to make us feel like a part of Campo. While freshmen are still underclassmen, it has been very easy to find a way to feel included at Campo.
When asked what a highlight of her year so far has been, freshman Valeria Portal said, "Meeting a lot of new people and being on the volleyball team."
Going into a new school in the fall and being able to meet so many people that all share a common interest, like volleyball, is a great way to make new friends and acquaintances. Students of all grades participate in Campo sports, so not only does participating in a sport allow you to meet new people in your grade, but you can connect with people in all grades.
While meeting new people at Campo hasn't been an issue, the jump between middle school academics and high school academics is challenging for many students. While middle school is more work than elementary school, high school is definitely more work than middle school. More is expected of students, and students have to take on more work. Teachers are understanding of this change, but time management is a skill many freshmen struggle with.
There are a lot of new opportunities at Campo that affect the way freshmen act, but teachers also affect the way freshmen act. High school teachers expect a lot more from students than middle school teachers do, but they also understand that the change from middle school to high school can be confusing.
Time management is something many freshmen have a hard time with, but Academy is a program that has been helpful for many students.
Portal said, "Academy is a good thing because I can get my work done, but I can also hang out with my friends."
Academy is a system that has worked well for many people. On the other hand, the lunch lines are a system that creates quite a few problems. While having free breakfast/brunch and lunch is beneficial for many students, it becomes difficult to get food on some days. When in the lines, people tend to push, shove, and cut people to get their food faster.
One thing at Campo that seems to work well is easily being able to go to sports events. Some events require ASB, and others don't require anything. Being able to easily get into sports events makes it easier to go to games, and makes the experience more fun.
Upperclassmen tend to look down on freshmen, but some of them are also very nice and helpful, and are happy to help someone that needs it.
Campo has a lot of things that are different from previous schools, but they still find a way to make it fun. Going into a new school will be a stressful experience for everyone, but there are many ways to feel included at Campo, and there is no reason to worry.
Leave a Comment
Your donation will support the student journalists of Campolindo High School's The Claw. Your contribution will allow us to produce more issues and cover our annual website hosting costs.
About the Writer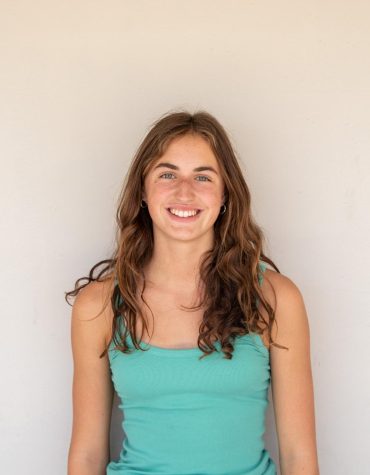 Lucy Maguire (she/her), Staff
Apart from her love of art and photography, freshman Lucy Maguire has been swimming for 8 years and playing volleyball for 5. 

Swimming, being an individual...