Lockers Missed During In-Class Instruction
With hybrid learning having finally started, we all can admit it's not exactly what we've imagined. Obviously the district has done it's best to keep in-person students safe, but 1 of my most missed aspects of normal campus routine is the use of lockers.
While some classes are steady with only online work, others are required to have books or equipment. With 3 to 4 classes a day and different needs for different classes, the lack of lockers forces us to shove our materials into heavy backpacks. After a year of sitting at home on Zoom all day, our posture is bad enough as it is. Certain classes specifically have lots of weighty baggage, such as language textbooks and workbooks, English reading books, yoga materials, math textbooks, and more. Without lockers to put our belongings in, in-person students like myself must put up with the feeling of backpack straps bending our spines and bags of yoga equipment throwing us off balance.
Not only do lockers lift the weight off of students literally, lockers—while seemingly inconsequential—are also a memorable part of the high school experience. Your locker is a familiar place to make your own when bouncing from class to class, a small consistency through all the chaos. Many students used to set up their lockers with pictures, mirrors, stashes of food, and more comforting things.
While we must continue to stay safe, there are ways to incorporate lockers in hybrid learning that follow safety rules, such as wiping down lockers before and after using them or having the lockers that are used be spaced six feet apart.
Associate Principal Laura Lee oversees facilities on campus, which includes lockers. Lee said, "1 of the concerns was making sure we had enough room flowing through the hallways… and there wasn't stopping and congregating in the hallways, and that's what use of lockers would lead to."
With around 61% of students choosing to come in person, according to counselor Duane Magno, that leaves 39% of the lockers for distance learning students empty and available. With half of the in-person students being on campus for half the days, there is plenty of space and availability for students who want them.
Another upside is that not all in-person students would use their lockers, leaving even more empty spaces for those students who do need them. According to a poll on The Claw's Instagram, 30% of in-person students would use their lockers if they were available.
Sophomore Addy Tetz is 1 of those students who would prefer to have access to her locker. "When I have yoga in person, I have to carry around the equipment all day, to all my classes and to different breaks and academy. If I had a locker, I wouldn't have to bring home any school supplies like textbooks that aren't needed and on the day I have yoga I could store the equipment in there. A lot of other people share this inconvenience too," said Tetz.
Because our school experience is so short, allowing locker usage to those who need them and want them would greatly improve our in-person experience.
"There's definitely a possibility that we could revisit those procedures for sure," Lee said.
Leave a Comment
Your donation will support the student journalists of Campolindo High School's The Claw. Your contribution will allow us to produce more issues and cover our annual website hosting costs.
About the Writer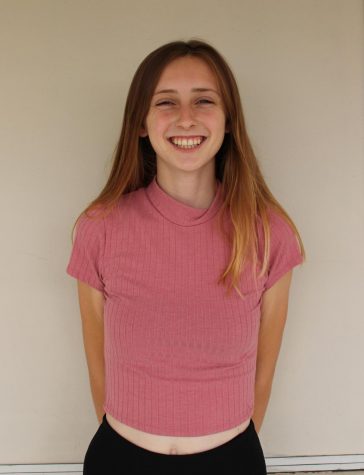 Maggie Doolittle, Lifestyle Editor
Junior Maggie Doolittle has been a Girl Scout since kindergarten, racking up a total of 11 years in her troop. "I have continued [Girl Scouts] because...