Sports Reinstation Requires Responsibility
On our run through Moraga, we were caught off guard by a startling scene on the sidewalk adjacent to Moraga Road on January 16: dozens of Campolindo athletes and parents lined the street in front of the school, cheering and holding posters that read "Let us play!" as they received occasional honks of support from passing cars.
This rally was held throughout the state as part of a mass demonstration organized through the "Let Them Play CA" Facebook page. The organization's letter to Governor Gavin Newsom asks for youth sports to be "detached…from the current color-tiered system" while providing data from over 275 California schools on the impact sports restrictions have had on kids.
While we were glad to see a majority of those present wore masks (maybe not always over both mouth and nose), we want to note that social distancing is also a good rule of thumb if all those involved want to get back to the courts, field, or pool.
We are so close to the end, and creating a chance for a mass of teenagers to contract the virus will do away with the progress almost a year of stay-at-home orders has brought. Athletes who wish to rejoin sports need to be ready to assume the responsibility of risking exposure.
Currently, we are still in the purple tier with the recent stay at home order having been lifted just days ago. According to Contra Costa Health Services, only 5.3% of ICU beds in Contra Costa county are available with 248 patients currently in hospitals for severe COVID-19 conditions. Contra Costa's average test positivity rate is up to 12.0%, which has increased 9.3% since the start date of the current stay at home order. And on January 24 alone, as of just 1:45 PM, there were 24,111 new cases confirmed and 429 deaths in the state of California.
With these harrowing statistics in mind, we were surprised and disappointed that several members of our community were focused on bringing back sports instead of public safety or improving the quality of education. But after learning more about the movement, we realized the importance of their goals.
According to Evolve, "For the most part, the absence of sports makes them [athletes] feel isolated and disconnected, creates a lack of initiative/sense of apathy, and causes them to experience feelings of anxiety, frustration, and depression. We call those red flags." The demonstration focused on using this argument to substantiate their claims that mental health outweighs physical health, highlighting how the athletes have little to look forward to without sports.
Additionally, data submitted by football coaches from over 150 schools to the Golden State HSFB Coaches Community revealed that student-athlete academic ineligibility, substance abuse, gang membership and incarcerations have all increased over the duration of the lockdown and sports restrictions. This is most apparent in California's inner cities, as several school districts have not allowed sponsored sports camps and athletes aren't able to travel outside the state for competition opportunities.
However, just because over 40 states were able to return to sports does not necessarily mean that California should. According to PrepCalTrack journalist Rich Gonzales, 6 states did not hold cross country seasons this year, California included. The states that did allow cross country/sports had opened up their communities, and are "suffering big time in terms of per capita [every 100,000] death rates and per capita hospitalizations," said Gonzales.
According to Gonzales, "of those 6 states that did not have any cross country, those 6 states all ranked among the lowest 13 in the country in deaths per capita," adding that California is ranked 37 out of 50 in terms of deaths per capita despite its massive population. For example, California's population is 4 times the size of New Jersey's, but our COVID-19 death rate per 100,000 is 91 compared to New Jersey's 234, according to global data platform Statista.
Basically, because California shut down and consequently did not allow sports competition, our death rates are extremely low compared to the rest of the country. Gonzales even predicted that if California had followed other states' leads, "between 30-40,000 more people would have died if we were more open."
This is exactly why sports cannot go back to normal now. Although practice and limited competition may be able to resume, athletes will still need to consistently wear masks and stay as safely distanced as possible. Additionally, we can't adopt the mindset that staying in pods means that we will be safe from the virus.
We recognize that bringing sports back is important for mental health, and hope that a resolution is met for those sports that have been restricted to lower color tiers. However, if/when these sports are brought back, it needs to be done safely. Students who plan on participating in these programs need to hold themselves accountable and be extra diligent about wearing masks and limiting their exposure, and coaches will need to be responsible for reinforcing these safety measures.
We want to say that we have confidence that this can happen, but after seeing the way many have behaved for the past few months we are concerned. So-called "social pods" have been expanding to include more and more people, most of which are caused by individuals choosing to be in more than 1 pod. With this flawed method, it would only take 1 person getting COVID-19 to then spread it to 20 others and their families as these pods overlap—no direct contact necessary.
Social interaction is incredibly important, but there are so many painfully easy ways to do this while still minimizing risk and limiting close contact with multiple people. Wear a mask and brave the cold together by meeting outside. Redundant message, I know. You would think we'd have this down by now…
Once these sports commence you will be putting the safety of you and your teammates and their families at risk. Even though there has not been an outbreak yet, all it would take is 1 unlucky act of carelessness to change that. Sports resuming does not mean a total return to normalcy or any indication that we are in the clear. If anything, it means we have to be more cautious than ever.
About the Writers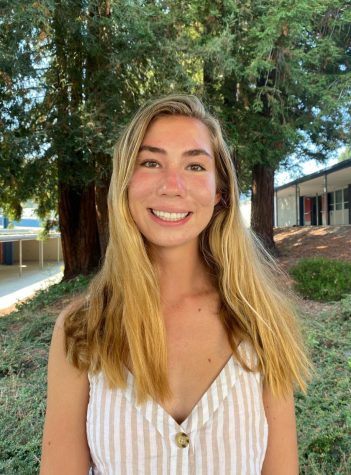 Gracie Woidat, News Editor
Senior Gracie Woidat has a passion for both working and caring for people and animals. She has found her calling by volunteering at the Lawrence Hall of...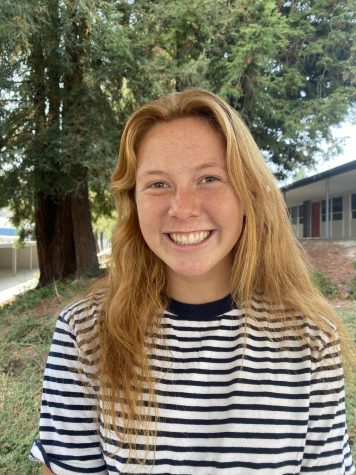 Jessica Rosiak, Editor-in-Chief
Jessica Rosiak, a senior at Campolindo, has always looked forward to exploring new places around the world. "I enjoy going to places that are unique and...