End of the Year Brings Stress – Take a Break
Hang in there everyone – we're almost there.
2020 has had its fair share of drastic changes and ups and downs, so much so that it's hard to comprehend that it's finally coming to a close. If someone had told me in December 2019 what the coming year would have in store for me, I would've thought them to be absolutely crazy.
But as it turns out, this year has been crazy (and unbelievable, astonishing, heartbreaking, etc.). As we head into yet another COVID-19 lockdown, the coming of a new year might bring not relief, but fear for what could possibly happen next.
Normally, this time of year would be full of electric anticipation as students grind through finals week to earn their 2 weeks of relaxation, holiday parties, and family gatherings. Instead, we feel tired, unmotivated, and quite honestly fed up. And it's okay to feel that way; it's even, normal, as the Center for Disease Control reports that "symptoms of anxiety disorder and depressive disorder increased considerably in the United States during April–June of 2020" compared to previous data from 2019.
With this in mind, it's especially important – going through 1 of the most stressful legs of the school year – to be kind to yourself. While grades and finals are important, mental health should be a top priority. Study and be organized, but don't push yourself over the edge and beat yourself up over things out of your control. Some people like to pretend they are superhuman, especially in our community, but dealing with the serious disruptions brought on by the pandemic made even the toughest cookie who takes every AP class feel overwhelmed and trapped.
Do your best to finish up your semester, and accept whatever that outcome may be to be enough. To be honest, worrying about the difference between an A- and B+ seems a little ridiculous during a global pandemic. Take a deep breath, have some hot cocoa, and just do what you can. That's more than enough.
If we want to have any hope that we can celebrate the holidays normally (and hey, I would like to actually go to college next fall!), we need to flatten the curve now. Wear masks now. Practice social distancing now. Yes, it's less than ideal, but considering the lives that we will save and the chance of normalcy in the future, it's worth it.
As much of a disappointment it is to go back into lockdown, we have to remember the very real nightmare that it's protecting us from. I'm grateful for the fact I don't have to spend Christmas this year with a loved one in the hospital, but I know there are thousands who aren't so lucky. We have to be willing to do what it takes to prevent the worst from happening in our communities.
Anyway, happy holidays from our La Puma family to yours!
While this won't be the winter break we're hoping for, we just have to make the most of it. Besides, hunkering down to binge Christmas movies for days straight doesn't sound too bad…right?
Leave a Comment
Your donation will support the student journalists of Campolindo High School's The Claw. Your contribution will allow us to produce more issues and cover our annual website hosting costs.
About the Writer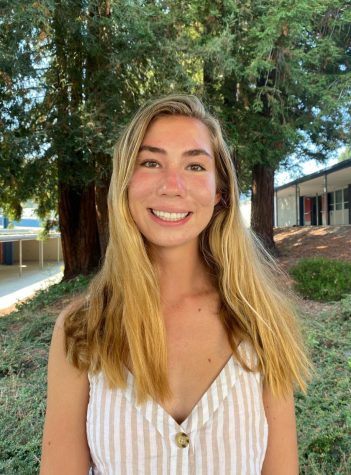 Gracie Woidat, News Editor
Senior Gracie Woidat has a passion for both working and caring for people and animals. She has found her calling by volunteering at the Lawrence Hall of...