COVID-19 Presents New Halloween Horror
Ghouls, vampires, and zombies are far from the spookiest of scares we've seen this year, as Halloween's most terrifying horror will be the continued threat posed by COVID-19.
While Contra Costa County's positive testing rate is steadily declining, many of Halloween's traditional festivities, such as crowded costume parties and door-to-door trick-or-treating, carry high-risk for spreading the virus.
Although I enjoy Halloween celebrations as much as the next person, attending a bustling, large party is not worth jeopardizing the health of myself or my community. Like everything in 2020, we must get creative with how we celebrate holidays in order to prevent coronavirus' spread.
"I think kids should take into consideration their family situations or people they have been in contact with, but if you're hanging out with the same people all the time and no one is sick, it's fine," said junior Caitlyn Kutzscher.
To the disappointment of many avid party-goers, Halloween parties are off the table this October 31. The Centers for Disease Control and Prevention (CDC) classifies large, indoor gatherings as extremely high-risk activities.
Contra Costa Health Services has linked both indoor and outdoor large gatherings to the spread of the disease, attributing many cases in the Bay Area to such events.
Campo's party-going students need to understand the severity of the disease and its relation to these gatherings. Attending a crowded party this Halloween is both careless and reckless, showing complete disregard for the safety of our community.
The commonplace use of drugs and alcohol at a party only adds to the posed risk for spreading COVID-19. The CDC cautions that these substances "can cloud judgment and increase risky behaviors," which heightens the danger of using such substances during a worldwide pandemic.
We all know at this point that it is simply irresponsible to attend large social events, without a mask and without care of spreading the virus to those who are at risk of potentially dying.
However, crowded house parties are not the only celebratory events that should be canceled. The annual tradition of trick-or-treating that is greatly anticipated by younger crowds presents a large risk in the age of coronavirus.
According to Contra Costa Health Services, trick-or-treating, despite being an outdoor activity, is a high-risk endeavor. Traveling from door-to-door collecting candy increases contact with numerous individuals outside of one's household, boosting the likelihood of spreading the virus.
Loading ...
Likewise, participating in a "trunk-or-treat," where treats are handed out from cars lined up in a parking lot, is also a high-risk activity. While it may be a seemingly safe alternative to traditional trick-or-treating, trunk-or-treat events present an equal risk, warns the CDC.
Fortunately, the beloved tradition of trick-or-treating can be reimagined for these unprecedented times.
For candy-crazed, costume-loving children, 1-way trick-or-treating may be the perfect solution. Considered to be a moderate risk activity, according to the CDC, individually wrapped goodie bags can be lined up for families to take while continuing to social distance.
Alternatively, those wishing to remain in the safety of their homes may consider in-home trick-or-treating. CNN recommends that parents "decorate each room, dim the lights, and give out a different type of candy at each doorway," recreating the magic and sugar high of Halloween.
Other festivities that are off-limits this Halloween are hayrides, traveling to fall festivals, and attending indoor haunted houses or mazes where individuals may be crowded together and screaming, says the CDC.
While the cancellations of these events are disappointing, safety must take precedence. Risking contracting or spreading coronavirus is not worth a night spent partying.
Despite COVID-19 taking the forefront this October 31, Halloween fanatics mustn't lose the spirit of the holiday: there are many alternatives to traditional festivities that allow for a ghoulish night of fun while maintaining caution.
While virtual gatherings eliminate all risk, smaller group gatherings held in well-ventilated areas are significantly safer than parties and other crowded, indoor events. The CDC recommends that attendees remain 6 feet apart, sport a mask with their Halloween costume, and come from the same local area.
For any coronavirus-safe events you may be attending in costume, be sure to accessorize with a protective mask. Consider going as a nurse, as this costume is perfectly equipped to feature a stylish mask. However, keep in mind that costume masks are never suitable substitutes for protective face coverings, nor should they be layered, says the CDC.
"I'm going to have some friends over to my house in my garage — it's like a hangout area — and we are going to open up the garage door to let fresh air in and just hang. People will bring masks and we will wear them if we feel more comfortable with that," said Kutzscher.
Some other low-risk celebratory activities include visiting an outdoor pumpkin patch, decorating or carving pumpkins while socially distanced, and having an outdoor and socially distanced horror movie night with candy, popcorn, and fan-favorite films.
This Halloween, it is imperative that we celebrate with safety in mind. Follow the recommendations of health professionals, monitor your condition following any festivities you choose to attend, and be sure to keep the spirit of Halloween alive while prioritizing prevention of the disease's spread.
Leave a Comment
Your donation will support the student journalists of Campolindo High School's The Claw. Your contribution will allow us to produce more issues and cover our annual website hosting costs.
About the Contributor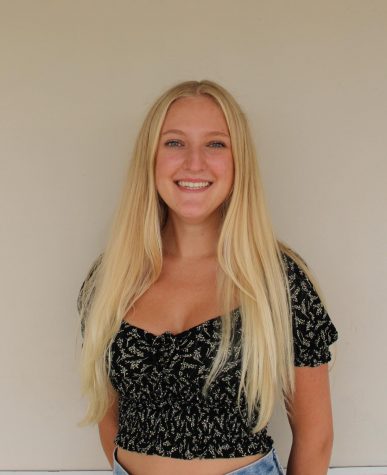 Jensen Rasmussen, Editor-in-Chief
Senior Jensen Rasmussen has been passionate about ballet since a young age, training and cultivating her love of dance throughout her high school career....