Sacrifice Earns Spring Reward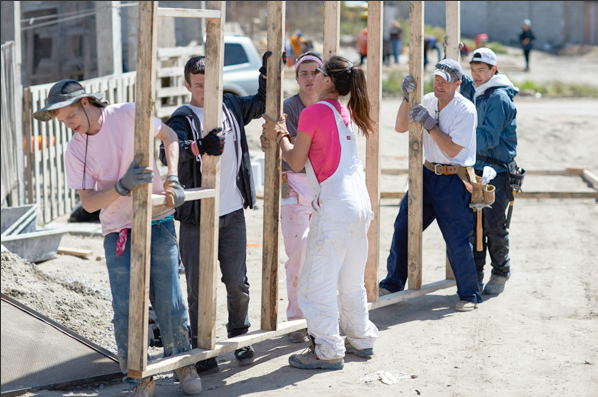 This past spring break was easily the best week of my life.
Along with nearly 200 Campolindo students, I went to Tijuana, Mexico with the Moraga Valley Presbyterian Church to build homes for families living in poverty.
The trip, for high school students and older, was organized through Amor Ministries, a Christian organization dedicated to building houses in Mexico.
Growing up attending MPVC regularly on Sundays, I would experience a day at church known as "Mexico Sunday," where I would hear my family friends and Sunday school teachers talk about their incredible experience. Since I was young, I looked forward to freshman year mainly for one reason: so I could go to Mexico.
Even without flushing toilets, soft beds, and the food I am used to eating at home, I absolutely loved my experience in Tijuana. I created strong bonds with both the students who came with me and the family for whom I built a home. I learned so much, and I believe everyone should do something to help those who need it, whether through a local charity nearby or in another country.
Those who came on the trip to Mexico sacrificed the comforts and luxuries of our first-word country to solve problems in a place where there are materialistic needs, not wants.
We slept in tents and sleeping bags through the cold nights, but aware that we were there because there are people who don't have so much as a blanket to keep them warm at night. We ate food that didn't exactly come from a five-star restaurant, but we realized how fortunate we were to have that food when we gave a child a piece of our lunch and saw their face light up.
We didn't have flushing toilets, but noticed at our work sites that some of the families didn't have a toilet at all.
The family I built for and their friends were some of the kindest people I have ever met. They helped us build their house, played soccer with us, and were patient with our broken Spanish. Even though they had so little, they were so much happier than most people you see here in Lamorinda, where we are so privileged.
On the last day of building, the family bought a feast of food and beverages, stacked a wooden board on two chairs for a table, and threw us a little party to thank us. This was so touching because they were clearly making sacrifices to afford it.
Not only did I bond with the locals, but I also created strong relationships with the other students who were on the trip. We sang and listened to sermons at night around a fire, braved the freezing buckets of cold water some of us had to endure for showers, and mixed a whole lot of concrete and stucco.
I am now such close friends with the 16 other people with whom I built houses. We are all different and I would never imagine us being so close, but through meaningful lunchtime conversations, long bus rides, and great teamwork building the house, we are now something close to a family.
Along with lessons learned about kindness, hospitality, and happiness, one day of my trip in particular taught me about great things coming out of bad ones.
In the middle of the night, it started pouring rain. The campsite was entirely made of dirt and dust; there were no paved roads and the only overhang to protect us was not nearly big enough to hold almost 250 people. Mud was everywhere and people were slipping all over the place. The worst part was that construction had to be delayed.
All we could think about was the mud and the cold and not being able to build for the the family we were serving. However, we took the extra time to have team disscusions. My team climbed into an empty bus and had our discussion there. It was a difficult topic to discuss, be we came out of that discussion a much closer team. We were able to go to our work site that afternoon, and worked for hours without stopping for discussion and accomplished just as much as if we had been there all day.
The rain turned out to be a blessing to the trip rather than an obstacle, and I will remember that when I run into hardships in the future.
I am so excited to be able to go back three more times in high school, and hopefully as an adult as well.
Thinking about how I saw the world on the bus ride down compared to the bus ride back, I appreciate the positive changes in my life.  My outlook on life changed significantly; I am now more grateful for what I have and have made so many close friendships to carry with me throughout high school and afterwards.
I didn't care about losing the opportunity to sleep in or relax during spring break; I would much rather be in Tijuana than Cabo. If anyone ever had an opportunity to help other people, I'd tell them to go for it no matter what comforts of home they would have to give up.
Everyone should put some effort into making other people's lives a little easier. The lessons they take away from experiences like mine will change their own lives as much as the lives of those they are helping.