Aca Deca Places 1st at State Champions
Campolindo's Academic Decathlon team placed 1st in their division at the State Championships. The tests occurred on March 5, the speeches on March 12, and the awards were given on March 19, all held over Zoom due to Covid. Overall, the team placed 9th out of the 85 competing high school teams, and qualified to compete in Nationals in April.
"State Championships takes teams of 9 – 3 from each of the 3 grade brackets – from all around the state who won their county at the regional level and has them compete. We are competing for medals, a chance to join the 'k' club by individually scoring over 7,000 points, and the chance to go to nationals. We had around 800 decathletes participating at the state level from 80+ different schools," said senior Maia Drasin, who scored 2nd place in the speech section.
The competition includes 7 "objectives": music, literature, social science, mathematics, economics, and science. The last 4 subjects are "subjectives" and include speech, interview, art, and essay. According to team advisor Paul Verbanszky, the theme of this year's competition was "Water: A Most Essential Resource."
Senior Namratha Kasalanati won gold medals in art, music, and economics, and received a 1000 point perfect score in the speech section of the competition. Kasalanati's speech was about gender inequity in access to toilets. "We take so many things for granted like toilets, but it's actually really important that we have toilets. For women without indoor toilet access, they have to walk many miles, in dangerous terrain to go in the wild outdoors, and they are vulnerable to sexual harassments and assault," said Kasalanati.
"I am so proud of Namratha because as captain I got to see how hard it was for her," said Drasin. "She had to wait for over 5 hours due to tech issues which were so…awful that they waived the requirement for people to complete all events. People could leave if they wanted but Namratha remained and was committed… And even through all of that stress she persevered and did amazingly."
Verbanszky was "super excited but also not surprised" at Kasalanati's performance. "Namratha is a dedicated and valuable member of our team. The speeches were done via Zoom this year and I was delighted to hear that Namratha's positive personality and energy came through to the judges."
Kasalanati emphasized the role each member played in the team's success at State Championships. Drasin, Kasalanati, and Liesel Hilkemeyer in the Honors Division; Jacob Larson, Ashley Tsao, and Anya Gupta in the Scholastic Division; Eilidh Kilpatrick, Ollie Wendt, and Zhen Xiong Chen in the Varsity Division all contributed to the victory at State. "I love the community we've formed on the team around AcaDeca. I encourage all students of all GPA levels to join because it is such a nurturing community and the skills you learn really do transcend Aca Deca," said Kasalanati.
Leave a Comment
Your donation will support the student journalists of Campolindo High School's The Claw. Your contribution will allow us to produce more issues and cover our annual website hosting costs.
About the Contributor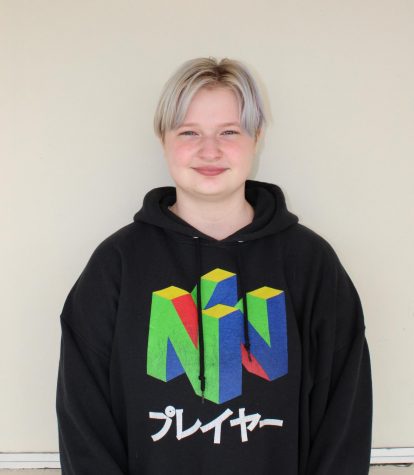 V Rogers (they/them), Staff Writer
Senior V Rogers has had a passion for literature since they were young: "My bedtime stories were Baldwin and Angela Davis." They have taken AP language...