Walker's Promotion Prompts Administrative Transition
After nearly 10 years working as Campolindo's principal, the AUHSD Governing Board appointed Principal John Walker as the AUHSD Associate Superintendent of Educational Services during the Board meeting on February 2. He will begin his new position this summer on July 1.
While Walker will no longer be working directly on Campolindo's campus, he will continue to impact our district in focusing on curriculum, instructional strategies, and assessment. "1 of the things I'm looking forward to is the ability to work with all of the school sites. I've been in the district for almost 10 years, so I've developed good relationships and connections with the various sites. And so I'm looking forward to working with teachers [and] staff administrators at all of the sites in the district," said Walker.
He added, "I will certainly miss the day-to-day interaction with the Campolindo staff and students. It's a very special school community that I am obviously very fond of, and so I'll miss that day-to-day interaction with Campo."
Senior Adriana Colon, ASB Commissioner of Student Affairs, has been closely working with Walker this past year and learned of his promotion live at the Board meeting. She said, "I was actually really taken aback… After conversing with [Walker] for the past couple months, I think as much as he loves Campo and he loves the environment, he's really excited to take on a stronger administrative role. I'm really looking forward to making his last months on campus impactful, specifically for the student body, as well as for him and the other [administrators]."
Although the community is overwhelmingly congratulatory of Walker's new position, yet another administrative change does create a level of uncertainty for the future. Campo is in somewhat of a transitional period, from equity to COVID-19, so the prospect of an entirely new face of the administration may serve as another source of unease for students, faculty, and parents alike.
Colon said, "We do have a pretty new administration. We have [Vanessa] Knight [and Stacy] Southern, so a new addendum to the Campo family I think will actually be really beneficial…With that said there may be some tricky challenges, but I'm pretty optimistic."
Attendance Technician Stephanie Sliwinski said, "We have had some new staff come on, some people come, some people go, and the students particularly appreciate routine and seeing the same people. That's important to them. So I get it if students or if community [members] or parents are feeling anxious about turnover… that's completely valid. But just know that the people we acquired are so good, they're the best I've seen yet. I am a little sad at the coming and going, that's normal, but I'm really excited about the people that we've acquired recently."
In terms of recruiting his successor, Walker said that "the position is posted in EDJOIN, which is an online platform for education related positions. That selection process is managed by the superintendent, Dr. John Nickerson. There is definitely an important component of the process that involves input from the school community, from students, from staff [and] parent leaders, to give input on what type of leader, what type of experience, what type of priorities, [and] what type of background that they'd like to see in the next principal. So, there'll be an avenue for that input. Ultimately… the Governing Board makes that final decision."
Walker continued, "I think it's critical to get input about the direction of the school, what type of priorities the community would like to see emphasized, helping identify some of the things that Campo does well, and we want to carry those on. We want the new principal to carry those on and some of the things that we need to improve on. So, does the next principal have the background and interest and skills and tools to improve in those areas? I think it's critical to get that feedback from the school community."
As both a Campo parent and staff member, Sliwinski appreciates the community surveying that will take place because "it's really important to make them a part of the hiring process because they're a part of Campo, too."
In light of recent attempts to create a more equitable learning environment, both at the administrative and community levels, students hope that the next principal has the skills needed to continue enacting change. Colon said, "I think having a really high authoritative role, specifically at a school with a lot of high schoolers, you need to make sure that you have the motivation and the drive, and also the charisma to make sure that people are listening to you and are taking in your information. I'd love to see someone with some bubbly energy, somebody who can make change."
Sliwinksi echoed the community in "looking for someone who, like Mr. Walker, is really invested in the future of Campo, someone who understands what it takes to make Campo tick, and someone who has a heart and a passion for the school like Mr. Walker does."
With his experience heading Campo's administration since 2012, Walker is "confident that the next principal will have skills in the areas of collaboration, being able to effectively collaborate with a wide range of stakeholders, including students, including staff, and not just teachers, but counselors, psychologists, classified staff, the office staff, the grounds, the facilities – you have to be able to collaborate with all of those groups. I think that's a key component of this job if you're going to do it well."
Although there is no definitive timeline as to when Campo's next principal will be hired and introduced to the community, Walker plans to help guide the new hire in a "successful transition." In helping to ease the shift, he hopes to discuss the school's successes, along with areas of growth needing to be addressed by the next principal.
In his remaining time as Campolindo's principal, Walker noted that his areas of focus are the "class of 2022, making sure they have a successful launch. And then a successful transition for the [incoming] class of 2026."
Colon added, "We're trying to make sure that Mr. Walker is involved with our principal initiative, making sure that [he], Ms. Knight, and Ms. Southern are more approachable on campus to talk to. And that's just something that I would really like to see through May."
As the district embarks on this transitional process, Walker concluded, "Campolindo is an amazing school community. And it's been my privilege to work here since 2012. I know we're going to find an excellent new principal."
Sliwinksi added, "I will miss him alot because he has done an excellent job at Campo and he's a big part of why Campo is so great… He's the head of Campo, and if we didn't have a great leader like him, then Campo wouldn't be as amazing as it is. So we've got to give credit where credit is due."
Leave a Comment
Your donation will support the student journalists of Campolindo High School's The Claw. Your contribution will allow us to produce more issues and cover our annual website hosting costs.
About the Contributor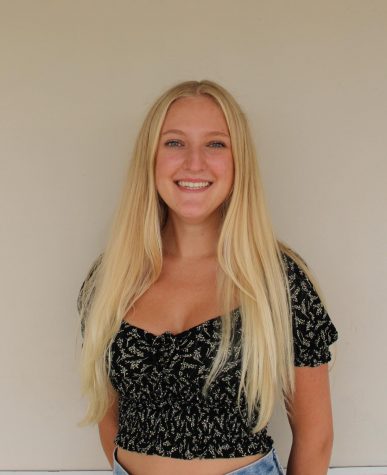 Jensen Rasmussen (she/her), Editor-in-Chief
Senior Jensen Rasmussen has been passionate about ballet since a young age, training and cultivating her love of dance throughout her high school career....