Book Club Precedes Visit from Civil Rights Activist
In preparation for a webinar with civil rights activist Ruby Bridges on March 4, students were invited to join a book club to read Bridges' recent letter, This Is Your Time.
In the letter, Bridges recounts her experience as the 1st Black child to integrate into an all-white elementary school in New Orleans, Louisiana and encourages the youth of today to stand up and enact change.
According to Leadership advisor Lindsay Webb-Peploe, Ellide Smith, Chair of the Campo Diversity & Inclusion Parents Group, 1st introduced the idea of having Bridges speak to the student body. Smith 1st heard Bridges speak on The Daily Show with Trevor Noah. "I couldn't even imagine what that felt like for her as such a young girl. Then I thought about kids of color that move into communities and schools where they are the definite minority, and I saw similarities," said Smith.
Smith reached out to Bridges via her website, and coordination for this Campolindo-exclusive event was "very easy," she said.
"I gave a brief overview of the current climate of this community and our school, and expressed how much work and change has been involved to make it a safer, more inclusive environment for all of our students (not just most of our students). And I asked her to come speak and help me," Smith explained. "Her people were super responsive and it's been very easy figuring out how to coordinate this virtual school visit.  The Campo faculty and admins were all on board from the onset."
"Both [counselor Patrick] Turner and I were like, 'Yes, that would be amazing to get somebody like Ruby Bridges to come and speak,'" said Webb-Peploe. "Then we thought, well, she just released—it's really more of a letter than a book—The Time Is Now—in 2020 after all of the protests with George Floyd. It seemed too good of an opportunity to pass up."
Junior Adriana Colon signed up for the book club because of her "interest in civil rights and also for the historical aspect."
"I am very excited to learn about [Bridges'] story and her role in activism through the 20th and 21st centuries," said Colon. "I think this is a great opportunity because it engages students who enjoy reading or discussing with other people while still being pandemic-friendly. I am excited to be surrounded by people who share the same interests and passions that I do."
Smith hopes that students will gain "insight, perspective, and growth" from this experience. "I know that there are those people who are willfully exclusive in how they go about their lives and interact with others in school. But there are also those who do so without knowing it. It is our students, our children, that will move this country forward and repair the hurt and divide that exists," said Smith.
"
It is our students, our children, that will move this country forward and repair the hurt and divide that exists."
— Ellide Smith
Webb-Peploe, who has been able to hear Bridges speak several times about her book on the radio, said, "She's really a dynamic speaker, and I think this is just a really neat opportunity for us to hear from civil rights leaders [speak] to us personally."
Bridges' book is "really inspiring because it's driven and directed toward young people," said Webb-Peploe. "She really feels that this is a time of great change and that young people are, in many cases, driving the change. At the protests this summer, what she saw were little kids, high schoolers, twenty-somethings, all saying they wanted to see things different. That was really inspiring to her because she integrated at age 6. She also was an amazing hero even at a young age. It's just a very timely opportunity to capture what's going on in our nation."
Senior ASB Commissioner of Diversity Jackie Artiaga, who has been in charge of promoting the book club on social media, said that she has been "really impressed with the efforts this year" to celebrate Black History Month (BHM). "Using Canvas as a resource to post about a new figure every day has been great to see as well as focusing Cohort discussions on BHM. We have Ruby Bridges speaking on March 4 so we thought the book club would be a good lead into her event."
Students who signed up for the book club via a Google Form on February 1 can pick up their free copy of Bridges' New York Times bestseller after school on February 8 from Webb-Peploe or throughout the week in the school library. There will be a book club discussion scheduled for a later date. Students are also encouraged to sign up for the webinar to hear Bridges speak, which will be held on March 4 at 4 PM.
About the Contributors
Amanda Young, Editor-in-Chief
Amanda Young, a senior at Campolindo, enjoys raising awareness for social justice issues and being active in her community.

She is an intern with Stop...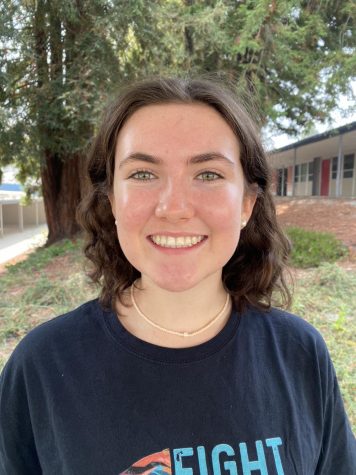 Caroline Fitzpatrick, Photographer
Junior Caroline Fitzpatrick has always loved art and photography. She uses her film camera to capture moments whether she's traveling on vacation or exploring...