New Finals Structure Limits Content
To accommodate the distance learning schedule, 1st semester finals have been altered to fit into a usual class period with multiple meetings with the teachers throughout the week. Contrary to previous years, where students took 2 finals during a shortened 8AM to 12:20PM day, there will be no changes to the timing of the current school day schedule.
The new finals structure may pose threats to equity, according to teachers. Social Studies department chair and history teacher Lisa Herzig said, "The allotment of 75 minutes is tricky, as there are so many students with accommodations for extended time, so assessments need to factor in those needing time and a half or even double the amount of time."
Though Herzig and other department chairs, who are members of the Instructional Council, discussed finals week and provided feedback from their departments, "district administrators came up with the schedule and did not seem to factor in any of my department's feedback," said Herzig. "Many were unhappy that we found out so late (nearly 5 weeks prior), which created some challenges regarding planning. Others seemed to feel relatively unheard since teachers had few chances for input and little opportunity to decide."
"I am not a fan of finals ever and especially not during a global pandemic where our kids are reporting a ton of academic stress already," said English teacher Jake Donohoe.
In addition to the new, full day schedule, finals are being truncated from 2 hours to 75 minutes. AP math teacher Petro Petreas said, "I plan to still make them comprehensive and cumulative, but clearly have to be shorter."
Petreas and Donohoe both agreed that there was limited input as Petreas said that it was "given to us as an edict."
The district started the year by stating that there would be no finals, which Petreas thought was "reasonable." After, the district officials changed their minds and required a final exam.
No new material is to be given out on the non-finals day of the block. Donohoe plans to host "something very light," and will provide support by asking the students' advice in order to "incorporate more fun into [the] day."
Herzig has all her finals on the 1st block based on the periods she teaches. "Since absenteeism has been remarkably low, I don't anticipate too many missed assessments, but I have those Thursday/Friday finals as Plan B for those who miss the day of the final exam," said Herzig.
Donohoe stated that she thinks the new finals schedule "is an attempt to return to our 'normal' teaching strategies when what our students really need is a break from academic hoop jumping."
"There has been so much change this year (some good, some less desirable), that I am a bit 'change fatigued.' Keeping a similar schedule right now could be a good thing for those of us hanging on mainly due to a sense of comfort from routine," said Herzig. "I am more concerned about what January potentially has in store for us all."
Leave a Comment
Your donation will support the student journalists of Campolindo High School's The Claw. Your contribution will allow us to produce more issues and cover our annual website hosting costs.
About the Writer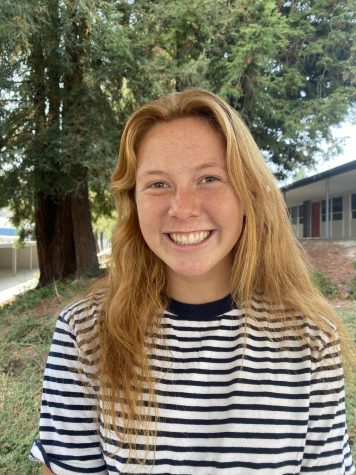 Jessica Rosiak, Editor-in-Chief
Jessica Rosiak, a senior at Campolindo, has always looked forward to exploring new places around the world. "I enjoy going to places that are unique and...