Pulitzer Winner Champions Modern Journalism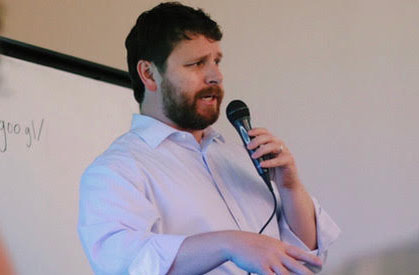 San Francisco Chronicle reporter Matthias Gafni spoke to the La Puma staff about his work as an investigative journalist during 1st period on February 27.
Beginning his career as a sportswriter for the UC Davis newspaper, Gafni moved on to report for the San Jose Mercury News, East Bay Times and Vallejo Times-Herald before joining the San Francisco Chronicle in February 2019. Author of The Suspect Next Door and The Ghost Ship, Gafni won a Pulitzer Prize in 2017.
After meeting La Puma staff members, including Editor in Chief Amanda Young, while at the scene of a shooting that took place in the Rheem Shopping Center on January 19, he said visiting the journalism class was a "no-brainer." Gafni is interested in "help aspiring journalists."
During his visit, Gafni fielded questions from La Puma staff, discussing a variety of topics from vetting sources to the role of social media in journalism today.
Gafni's goal was to "reinforce the importance of investigative and local journalism," as well as to push students to "shine a light in the darkness to bring out the truth," on campus.
1 point discussed by Gafni was the importance of knowing how to navigate online public resources when writing articles as it is an "invaluable tool for a journalist on any level."
Besides the use of public records, Gafni also emphasized the importance of in-person interviews and gave suggestions to the La Puma staff on how to encourage people to speak about difficult subjects.
"Interviewing is an important skill and it takes time to figure out the best way to approach getting someone to talk. And sometimes, you get someone who just won't talk. It takes practice and preparation," said Gafni.
"The fact that he's [Gafni] willing to take those risks and have uncomfortable conversations, confront people in powerful positions was great. He showed a really wide range of situations where he had to approach people and come up with questions and prep in advance," said journalism adviser Charles Woolridge.
In addition to offering advice for constructing an article, Gafni gave tips on how to handle backlash from readers. He said that it is the journalist's job to "give a voice to the voiceless," regardless of what others may think.
According to Woolridge, Gafni "was frank and realistic in saying that this is part of what it means to be in the profession in saying that some people are not going to agree and that you should be prepared for people expressing their disagreement in whatever you publish."
Junior Visual Media Editor Mindy Luo felt "reassured" by this advice knowing that "a lot of adults have gone through the same thing."
"This experience reinforced the idea to me that getting backlash is just part of the life of being a journalist and you don't need to respond to every single comment that critics make because they are irrelevant if you know that your article is accurate," said Luo.
While the business of journalism has undergone major changes in the last few decades with the advent of social media and various online new platforms, Gafni sees being a journalist as "one of the most gratifying jobs," and something to "truly make a difference in the world," through "helping write history."
"Even though it isn't one of the most glamorous jobs, it is one of the most important, and he [Gafni] showed me just how much journalists sacrifice to keep the public up-to-date," said Luo.