Wellness Center Offers Service Animal Interaction
Canine Companions for Independence provided an opportunity for students to meet Maisy, a 4-year-old black Labrador Retriever, in the Wellness Center during lunch on December 10 in an effort to alleviate campus stress. Wellness Intake Specialist Liana Holcomb McCann came up with the idea to have service animals in the center.  She calls it "Doggie Decompress," and hopes that it will "just help offer a space and a way to de-stress and relax."
Some have been cramming in last-minute work and studying hard in an effort to maintain or raise grades prior to the end of the 1st semester. Freshman Kayla Smith said that her visits to the Wellness Center have been beneficial. "I come [to the Wellness Center] at least 3 times a week and having a dog here really helps," she said.
Several universities have instituted programs similar to "Doggie Decompress," such as the University of Minnesota and Cambridge University. According to Science Daily, these programs that provide interactions with animals improve students' moods and also offer physiological benefits like lower heart rate and lower blood pressure.
Holcomb McCann said, "Having interactions with friendly animals and pets shows really amazing results for reducing anxiety and stress and depression, and increasing connection and stuff like that. There's just a ton of positive benefits and I think it brings some positivity into the Wellness Center."
Volunteer breeder caretaker Kenny Tuckerman, Maisy's handler, said "I thought we'd bring her into the high school. [Students now do] so much more than I did as a high school student and so I think she could definitely help kids relax and have a pleasant experience."
The plan is to have service dogs visit the Wellness Center frequently in the future. "Kenny is pretty committed to working with us at least every other week. So, it will be happening on a consistent basis," said Holcomb McCann.
About the Writer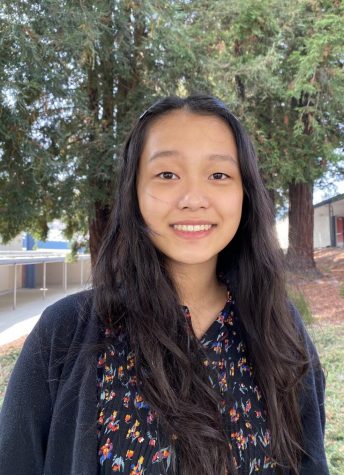 Yasmine Chang, Junior News Editor
Sophomore Yasmine Chang spends her time writing stories and creating new fantasy worlds, drawing on her love of reading.

Chang enjoys fantasy novels....