New Policy Separates Cell Phones from Students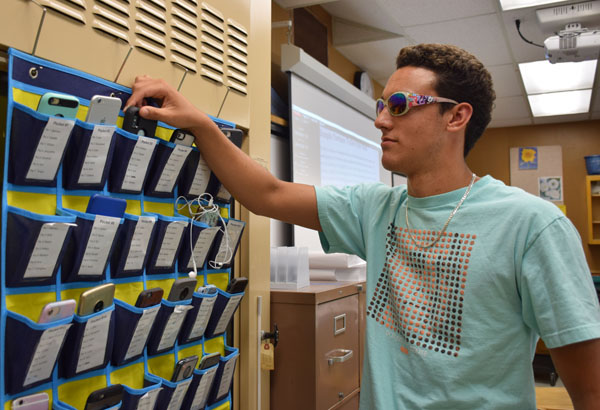 "Phone cubbies" into which students must deposit their phones at the start of class are now covering classroom doors campus-wide after the science department piloted their use last year.
Many teachers on campus are frustrated with the distraction to learning student cell phone use continues to cause. Science teacher Roxanna Jackman believes the devices are often detrimental to student achievement in her courses.
"Kids who have their phones out in class often are the ones with bad grades. It just distracts them from learning," said Jackman.
Principal John Walker is a fan of the new cell phone holders, which allow students to drop their phones off at the classroom door before instruction begins.  According to Walker, the cubbies are intended "to reduce distractions so students can focus on classroom activities."
Freshman Hayden Prizeman said the cubbies have been a positive addition to classroom procedures. "They help me focus and I don't think it's that big of a deal to have our phones taken away. We couldn't use our phones in middle school, so it's not really that big of a change for me," he said.
Meanwhile, other students are skeptical about the possible liabilities the system could have. Sophomore Alyssa Levy said she was opposed to these "phone jails" because cell phones are easily misplaced or stolen. "What if someone grabs my phone on accident or someone steals it or it breaks?" she asked.
Walker proposed that the school's standard procedure for theft, a basic search, will ensure phones will stay safe.
Another concern is that the cubbies could be ineffective if students refuse to turn in their phones or lie about doing so. However, Walker remains optimistic about the system. "I expect teachers know how to take care of the situation," he said. "I'm not that worried about students lying."
Jackman agreed with Walker that even if students choose not to place their phones in the pouches, the expectation that they will discourage cell phone use during class time. "If students lie and say their phone is at home, then they won't be pulling their phones outs in class," said Jackman.
Jackman admits that she does not completely ban the use of cell phones. In learning enrichment activities, her students do use phones to go on educational apps, take pictures, and even make movies. According to Jackman, phones can be "useful," but once she tells her classes device time is over, she expects them to be out of sight.
All in all, Jackman considers the phone cubbies "worth the 13 dollars."
Despite the numerous pros and cons, it appears the "phone cubbies" are here to stay for the time being.