Poet Inspires Trust at Workshop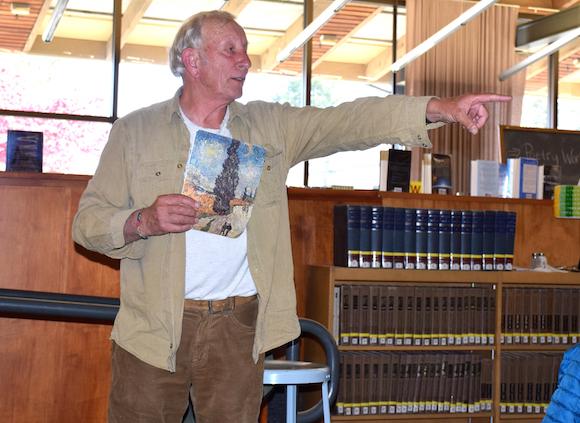 Guest poet Emmanuel Williams was featured at a poetry workshop hosted by the Poetry and Literary Clubs in the library on March 23.
It was the first such event hosted by the clubs. Nearly 30 students participated.
With over 50 years of classroom experience and a MA in Teaching of Writing from Humboldt State, Williams encouraged participants to craft original poems during the session. "I like to give students a CHOICE in the kind of poem they write," he said.
Williams, an friend of librarian Sarah Morgan, has a broad range of experience working with young writers. "I've been working with children and young people one way or another in England, France, Indonesia, and Los Angeles," Williams said.
"We wanted to get people excited for the poetry slam and get the creative juices flowing and we thought it would also be fun to have consecutive events," said poetry club president Athya Uthayakumar.  The poetry slam was hosted by the clubs the following evening and allowed many participants to present their work from the workshop in front of an audience of parents and peers.
At the workshop, Williams opened with a couple of riddles. Then students were partnered and asked to create a replica drawing of a famous painting with only verbal instruction.
Another oral exercise required one partner to make up and orally deliver a story in several different tones, while the "gibberish translator" activity challenged participants to turn their partner's nonsensical babble into a coherent story.
Williams also played a Jew's Harp, a small, metal instrument resembling a harmonica.
For the last 45 minutes, students wrote a poem in response to the famous painting The Scream, by Edvard Munsch.
"I thought they were very willing to do silly things and to do anything Emmanuel asked them to do, which is a good sign of a creative person," said Morgan. "They weren't rigid and were very willing to step outside their box."
"I meet a bunch of people I've never met before and within the time we spend together they trust me enough to write from their hearts, which is what happened this afternoon," said Williams.
Freshman participant Sarah Carrasco explained, "I really enjoyed the poetry workshop. I thought that the presenter was very interesting and he made the experience fun and enjoyable. I actually ended up having a really good time."
Some English teachers provided extra credit for their students who attended the workshop. "If it weren't for Mr. Woolridge's 10% boost, I never would have gone to the poetry workshop, honestly. But, at the same time I was really glad I did go because I ended up having a really good time," said Carrasco.