Columbian Film Reveals Latin Struggles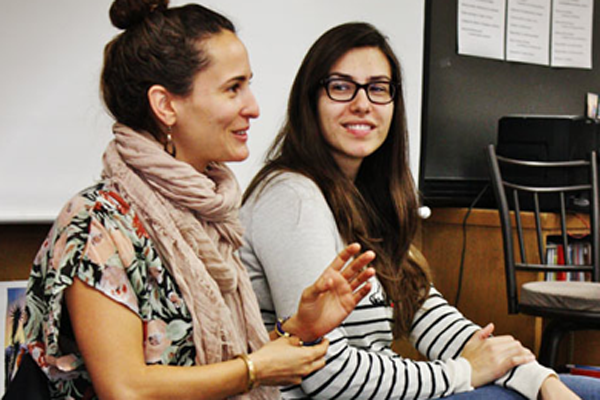 Katy Ly, Staff Writer
October 30, 2014
Elena Greenlee and Márcia Nunes, the producers of the movie Manos Sucias (Dirty Hands), which is sponsored by the San Francisco Film Society, spoke to Charlotte Taylor's AP Spanish class on October 16.
According to the movie's website, Manos Sucias is a story about two brothers from Columbia, Jacobo and Delio, who try to better their lives by earning money in the drug trafficking business. Jacobo and Delio are assigned to tow a torpedo, with cocaine hidden inside of it, from Columbia to the United States by boat.
The film shows the darker, harsher reality of the drug trade. "It talks about what makes innocent people turn into criminals, and what risks they take in their lives to better their lives," said Taylor, whose class watched the movie beforehand.
"The whole movie was in a dialect of Spanish that's hard for us to understand, so we had subtitles," said AP Spanish Student Grace Roberts. "But in Spanish 5, you spend a lot of time learning about different Spanish cultures: Latin America, Spain, and things like that."
Taylor said that the movie producers spoke to the class in Spanish about the setting of the movie and the political situation. Roberts added that "they talked a little about the filming of the movie because they were really involved in that."
According to Taylor, Greenlee and Nunes were in charge of many behind-the-scenes elements of production, such as funding, casting, and looking for set locations in the Afro-Colombian community.
"They had really interesting ways of filming it, where they had angles that the point of view of different objects that were important," said Roberts. "Like the torpedo that was carrying cocaine, and all these different interesting ways of making the movie seem more personal."
Roberts added that watching and talking about the film was another way for the students to understand the challenges of living in Latin America, particularly the drug trafficking.  "It wasn't very educational, in the sense of learning information, but it was really interesting to see the drug trade from the side of the people who are lowest on the ladder," she said.