Campolindo Perspectives: Indigenous Peoples' Day
Indigenous Peoples' Day, formerly recognized as Columbus Day, took place on October 10. The change in name seeks to address the atrocities indigenous people faced in what we now know as North America. These horrors were brought on by the journey of renowned Spanish explorer Christopher Columbus.
Many people acknowledge Columbus Day as a way to honor and appreciate the "discovery" of North America in 1492. However, this conception overlooks his cruel treatment of indigenous peoples who had been living on this land for centuries. As mMore of this history comes to light, perspectives on Columbus and the holiday are beginning to change.
Current US President Joe Biden said in his Proclamation on Indigenous People's Day 2021 speech: "I encourage everyone to celebrate and recognize the many indigenous communities and cultures that make up our great country." According to USA TODAY, after this proclamation, over 12 states, including California, now recognize the holiday on the 2nd Monday of October as Indigenous Peoples' Day.
Campolindo students have their own perspectives on the reform of this holiday and how it is handled within the Campo community. "I think as a whole, we should be doing more to spread awareness," said senior Luke Wise, a member of Leadership's Cultural Equity and Inclusion Board. Wise also expressed that Campo doesn't give indigenous history the attention it deserves.
Achieving this can be challenging. "It's difficult to gain enthusiasm for these types of things…and you can't shove your ideals in people's faces," Wise said. "I think what [the board] tries to do is provide information and hopefully open some eyes around campus." For instance, the board put up posters around campus, and sent a message to students through Canvas that was included in the weekly newsletter.
Being appreciative of people with multicultural backgrounds is highly valued by some Campolindo students. Honoring North America's original inhabitants and acknowledging the suffering they endured happens in numerous ways.
Wise said he reflects on the symbolism and meaning of the holiday: "This holiday, for me, represents learning and seeing things in a more holistic way. Taking a step back and acknowledging how for our country to begin, many peoples and cultures were destroyed, is important. It's heartbreaking that their suffering isn't remembered at all by modern American holidays or pop culture."
Founder of Campo's Cultivate Thinking Club senior Mira Shah said, "For me, it's a really good reminder to reflect on my knowledge of indigenous history." She feels that highlighting 1 day out of the year is changing our society for the better, but it isn't close to enough. "Indigenous history is more than just a day… Our world isn't doing enough on all the days of the year."
1 way Campo can do more is by students and faculty engaging in land acknowledgements before class and work sessions. A land acknowledgement is a small and formal statement that recognizes the indigenous people who originally occupied a territory. This practice increases mindfulness by providing opportunities to recognize the beauty of these peoples and their cultures, and to ensure it isn't forgotten.
For instance, Saint Mary's College gives land acknowledgement at the beginning of classes and meetings by verbally acknowledging the Ohlone tribes who have lived for 10,000 years on the northern coast of California, specifically in the land from San Francisco to lower Salinas Valley and the Bay Area.
UC Berkeley is also involved in this. The college website states, "UC Berkeley sits on the territory of xučyun (Huichin), the ancestral and unceded land of the Chochenyo speaking Ohlone people…"
At Campolindo, students could acknowledge and respect the Saclan people's history: the indigenous people of Moraga. This could remind our community of the indigenous roots not only in our area, but all over the United States.
Deconstructing Race teacher Shannon Sieckert also thinks there are learning possibilities to expand on. "There's a lot of unexplored history…We talk about Native Americans in really general terms without really knowing the history of specific tribes. It's really important that we develop deeper understandings that aren't exclusive of people's cultures," she said.
She added that the holiday is "1 of those things we're culturally, as a whole United States, trying to acknowledge and unpack." This "unpacking" – educating ourselves on the history that runs through the veins of the land we inhabit – can be done in multiple ways.
Librarian Sarah Morgan is actively educating herself about the culture of indigenous peoples. "I think it's important to de-emphasize the colonization that Columbus caused, and the incorrect name (Indians) he gave to the people he 'discovered.' They didn't need to be discovered, and they didn't need to be conquered."
Finding ways to enlighten students is 1 of Morgan's primary goals. "I think it's a perfect time in a high schooler's life to tell a different story than the limited one I was told in school. This story is much more than a guy named Columbus who came with his crew and boats… The lives of indigenous people were changed forever. It's something we should definitely remember."
Additionally, history teacher Lisa Herzig said Indigenous Peoples' Day "is an opportunity to remind students of important individuals – then and now – who are still shaping history." These individuals include Columbus, other European figures involved in his journey to North America, specifically affected indigenous groups, and activists spreading awareness in our modern world.
Campo is striving to educate students on indigenous peoples's heritage by incorporating it into the history curriculum. "US History is organized thematically around different identity groups. We just finished a unit last month on Native American history and American imperialism. This allowed students to look at expansion's impact on the indigenous people of Hawaii, the Philippines, and more," Herzig said.
However these curriculum reforms are "something that's not really talked about," Herzig added, even though it "is a change brought about as a result of student requests to have exposure to more than just traditional US history."
The school is attempting to introduce students to worlds that have been concealed in the past. Teaching these complicated truths can make a difference in the way these students approach the world. They will have more tools to be more open-minded and empathetic towards indigenous peoples.
Morgan also recommends reading Columbus's journals and attending indigenous ceremonies that are open to the community in order to further illuminate topics related to indigenous people. "Columbus' journals transported me to what he saw that day in 1492, and made me reflect," Morgan said.
She sees a benefit in spending time with these writings: "I think it's important for all of us, including students, to really know what he was thinking. It's not like Columbus himself was a bad guy – he was just doing a job – and by reading his journals we better understand his motives."
Herzig added, "[The journals] are an important storage source to understand the goals and preconceived notions that some of the early colonizers had coming into the Americas."
Upon hearing of the callous treatment faced by indigenous peoples, it's easy to develop a single-minded, depressed view. However, Morgan shared that when she attended a Sunrise Ceremony at Alcatraz Island in San Francisco, she "got to hear [indigenous] speeches and songs and get a nice view of the Native community that's still super strong and alive here in the Bay Area. Their community is still vibrant and loving and full of culture and love, and despite the generational trauma they've endured, I love going and listening."
This experience provided her with an uplifting image of the indigenous cultures in our country. "I encourage everybody to look around, because there's plenty of native culture right here around us."
The steps Campo is taking to learn from our history and understand the destruction human ignorance can inflict is beneficial to the community at large. However, these efforts must continue in order to foster a true sense of equality and respect.
Leave a Comment
Your donation will support the student journalists of Campolindo High School's The Claw. Your contribution will allow us to produce more issues and cover our annual website hosting costs.
About the Writer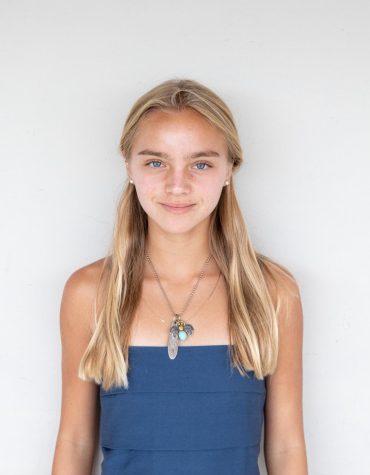 Anya Houston (she/her), Staff
Freshman Anya Houston has always had a special interest towards English. Whether in school or in her free time, she finds that she's always enjoyed writing...