Best Boba Shops in Lamorinda and Walnut Creek
Boba tea, a popular drink that started in Taiwan in the 1980s has grown in popularity worldwide in recent years. This special beverage is typically made with milk tea and tapioca pearls (boba), but is also sometimes served with lychee jelly or mango jelly, or even the wide array of flavored popping boba. Boba stores have been established throughout many cities and towns across the country – Lamorinda and Walnut Creek alone are home to an abundance of boba tea stores. In The Claw's opinion, here are some of the top places to visit, listed in no particular order.
Panache Caffe
A small coffee and boba tea shop in Lafayette, Panache Caffe has continued to be a popular after-school place to get their boba tea. This cafe has dine-in seating and outdoor seating as well as takeout, so everyone can enjoy their food and drink their way. Their boba tea menu consists of many flavors and toppings, including frappes and blended tea drinks that can be added with boba. Panache Caffe also has an assortment of baked goods for sale to have with your drink such as sweet pastries and savory treats.
Panache Caffe does a great job of not having overly sweet drinks and boba, which can sometimes be a problem for non-sweet tooths at boba stores. This store also has great customer service, with very kind employees. Panache Caffe is the perfect spot for an afternoon treat with family or friends as it is 1 of the sole boba stores with plenty of comfortable seating indoors and outdoors.
iTea
iTea often has long lines, as it is the sole boba store in Moraga. However, this doesn't stop the store from continuing to serve elaborate flavors of boba and tasty snacks. 1 snack in particular, egg puffs, remains a favorite among the Lamorinda community. Closely resembling and tasting like a waffle, this treat goes great with the tea drinks and comes in a wide variety of flavors, including original, chocolate, matcha, and black sesame seed.
Another popular choice among students is iTea's cookies-and-cream flavored boba tea drink. iTea allows the customers to choose the sweetness level for their drink and the add-ins, so it is fully customizable. Additionally, another great drink choice is iTea's Thai iced tea with boba which is great with 50% sugar. This store also has plenty of indoor seating, so you can sit and wait while your order is being prepared and enjoy it in-store. iTea does a great job of providing a wide range of drinks so that everyone can find something to enjoy.
Lilikoi Boba
The newly opened Lilikoi Boba store in Lafayette is outfitted with a Hawaiian theme, the menu serving tropical flavors such as mango, pineapple orange guava (POG), and coconut. Lilikoi Boba's mochi doughnuts are a very popular choice among Campo students. Another great choice is Lilikoi's Golden Pineapple Tea for a semi-sweet, refreshing drink. This drink has green tea with pieces of pineapple and slices of lemon and lime added, and an option of other toppings such as boba. Lilikoi Boba's store has a Hawaiian atmosphere with plants decorating the store, and one wall displaying their bright green logo with a seahorse.
Smoothies, another popular choice offered here, come in a variety of flavors ranging from Matcha, Mango, Strawberry, Coffee, and even Ube, the purple yam that has gained popularity on social media for its vibrant color. Lilikoi Boba is the perfect store for someone wanting a unique tropical, summertime-feel drink, with the cups even saying "let's take a boba vacation to Hawaii".
Bober Tea and Coffee
Located in Walnut Creek, Bober Tea and Coffee is best known for its aesthetically pleasing decor. Outfitted in pink roses and cheerful sayings, even the boba tea cups have a unique look, featuring 2 little animal ears on the lid. The store has fuzzy chairs and stools to sit on, and magnetic whiteboards with pink letters to spell out fun sayings. The corner of the store stars a bright pink telephone box with rose garlands decorating it, a perfect background for Instagram pictures. The actual boba offered at Bober Tea, which is stir-fried, is pretty sweet along with the flavors, many of which incorporate honey, perfect for someone with a sweet tooth. Bober tea has many special flavors of tea including a whole brown sugar series where the teacup is coated in their specialty brown sugar syrup before adding in the tea.
Bober tea also has many different flavors of milk tea, fruit tea, Vietnamese iced coffee, lattes, and the store's chizo series, drinks topped with chizu, their homemade cream cheese. Bober Tea and Coffee shop is equipped with efficient machines on the wall to order your drink, allowing multiple customers to place their orders at the same time. This shop is a great option for those wanting a unique, aesthetically pleasing experience and for those wanting a sugary, sweet drink.
Chalogy Tea Bar and Desserts
Also located in Walnut Creek, Chalogy Tea Bar and Desserts serves many flavors of boba tea as well as pan-rolled ice cream. This local company has also begun co-serving another company, Cornology's many flavors of gourmet popcorn. The tea offered here is very good, not too sweet, but just enough sugar to make a perfect after-school drink. Chalogy's tapioca pearls are also a perfect sweetness level and addition to the beverage.
Currently, this store is an order-at-the-window set up due to COVID. However, this doesn't stop customers from continuing to order and enjoy the food and drinks offered here. Chalogy even has 13 different toppings that can be added to your drink. Offering smoothies and shakes in fruit flavors, pina colada, and even tuxedo, vanilla ice cream with Oreos and Hershey's syrup, this store is sure to have something for everyone. The cafe previously offered customers the choice to observe passersby from their seats at the bar or watch the drinks being prepared in their open kitchen, which will hopefully return to the restaurant soon. This store is conveniently located just a 6-minute walk away from the main shopping area of Broadway Plaza, by Nordstrom. Chalogy has very good customer service, quickly making the orders so that the customers don't have to wait too long. It is a perfect place for someone wanting traditional boba tea drinks, a sweet milkshake, or a refreshing smoothie.
ShareTea
ShareTea is a popular boba tea spot in Orinda that was opened by a Miramonte graduate and Orinda native. This boba shop is a very popular location, especially for Miramonte students. Serving a wide variety of drink options, from milk tea and fruit tea to ice blended drinks, ShareTea is sure to have something for everyone. Like iTea, ShareTea allows customers to customize the sweetness levels of their drink, and even the amount of ice.
A great recommendation here is to order the Thai Pearl Milk Tea with 50% sweetness and light ice. This drink is a perfect after-school treat, with its ideal sweetness and delicious tapioca pearls. The customer service here is also very good and efficient, as orders are quickly served. While there is no indoor seating, there is a table outside where you can enjoy your drink. This boba store has good customer service and many local high school students work there so it is likely to see someone you know. ShareTea is the best place for someone wanting traditional boba tea flavors or a unique iced blended drink.
Leave a Comment
Your donation will support the student journalists of Campolindo High School's The Claw. Your contribution will allow us to produce more issues and cover our annual website hosting costs.
About the Contributors
Claire Birdsey (she/her), Staff Writer
When she was 4 years old, Claire Birdsey was enrolled in her first dance class and has been hooked ever since. Dancing at CAPA in Moraga since 2017, she...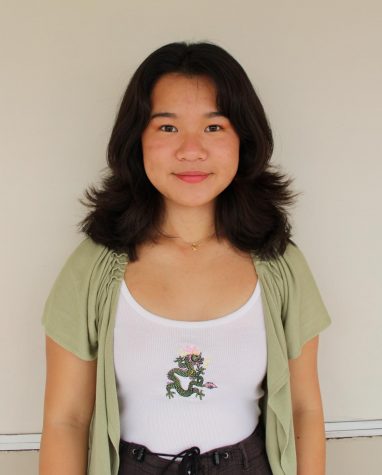 Ashley Xu, Co-Visual Media Editor
Senior Ashley Xu has been interested in art since she was in the 3rd grade.

Xu is fascinated by iconic painters like Monet and Dali. "I like Monet's...