Grammys Attire Highlights Monochromatic Theme
With a combination of social distancing, masking, and isolated music performances, the 63rd Grammys managed to overcome pandemic-related obstacles on March 14. As per usual, some stars dressed to impress, and others wore apparel wrought with perilous fashion choices.
In a standing tradition, here are The Claw's best and worst dressed:
Best Dressed
Megan Thee Stallion
If there are 2 things Grammy viewers learned on Sunday, it's that no one is ever 100% content with the award distribution and that orange is certainly Megan's color. This Dolce and Gabbana get-up had dimension and vibrancy. Plus, the dress complimented the 2 Grammys Megan won perfectly.
Taylor Swift
A perfect look to foreshadow the coming of spring in a week, Swift's Oscar de la Renta dress was covered in flowers. A TikTok user said it best: Swift's dress was the perfect marriage between her recent albums Lover and Folklore, encompassing the bright colors and playful energy of the former in addition to the emphasis on nature of the latter album. Not only was Swift the winner of album of the year, but also best-dressed material.
Harry Styles Performance
Now that's what I call Watermelon Sugar High-fashion. Even though everyone originally hoped that Harry would sing any of his other amazing Fine Line songs asides from "Watermelon Sugar," his outfit salvaged the brief performance. Going shirtless beneath his blazer, his many tattoos became accessories to his custom all-black Gucci suit.
Dua Lipa
Serving in her entirely bedazzled Versace dress, this Grammy-winning singer looked as vibrantly upbeat as the music of her album Future Nostalgia. This dress stands on its own, with no jacket nor accessories required.
Finneas and Billie Eilish
I'm grouping the 2 siblings for brevity's sake, as they are both deserving of best-dressed status. I certainly think that Billie's monochromatic print suit was more daringly chic than Finneas's pink suit, but nonetheless, the 2 both looked amazing enough to solidify their standing as best dressed.
Honorable Mentions.
Bruno Mars and Anderson Paak
A sort of tribute to the 70s, Paak's printed blazer and flare pants coupled with Mars's black suit with a popping red undershirt and rose complement one another well. The shades and flash were great displays of nontypical accessorization.
Jhene Aiko
Reminiscent of Ariana Grande's full-skirted grey ball gown of last year, Aiko's two-pieced pink gown left a great impression. Both textured and tulle-ridden, this gown had a presence of its own on the red carpet.
Lizzo
Always incredibly colorful and fun, Lizzo looked like a mermaid in her sparkly strapless dress. But what really made Lizzo's look was not her sparkling jeweled accessories, but her hilarious disposition. Laughing loudly even as she announced Grammy winners, a smile as well as teal look "Good as Hell" on her.
Worst Dressed
Phoebe Bridgers. I'm sure this wasn't Bridgers' intention, but having a body-length bedazzled skeleton as the focal point of her dress felt a little morbid to me. Especially during a global pandemic with over 500,000 American deaths.
Doja Cat. Feathers, frames, and eyeliner, oh my! It's 1 thing to jazz up a look with a feathered boa, but another to drag around an ostrich-worth amount of fluff. Certainly a red (or green?) herring from the strange leather straps on the dress's shoulders and arms, the feathers merely sunk the ship rather than uplifted the look. The green did not work, and no amount of feathers could distract from the fact that this was a fashion miss.
Harry Styles' Red Carpet
I know that this is dangerous to say, but Harry Styles could have done better. Note that I am commenting on Style's red carpet look, not his performance attire (which was very crisp and a great look overall). While the yellow-checked blazer looked straight out of Clueless in a good way, the Gucci knit top beneath could have been any other entregue Styles' worn at his concerts. In fact, there's no doubt that there are similar tops sold on Etsy for 15 dollars plus shipping. Viewers were there for the colored boa in his performance, but the entirety of his look depended too much on a scarf with feathers. Viewers expected more, and one could wager that Harry fans did too, whether they admit it or not.
About the Contributors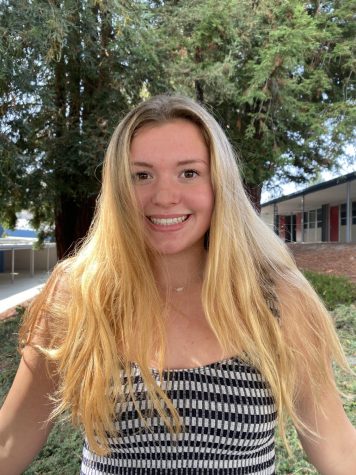 Nicole Kennedy, Opinion Editor
Senior Nicole Kennedy has played volleyball for 8 years and is currently on Campolindo's varsity team. She also played club volleyball at Red Rock East...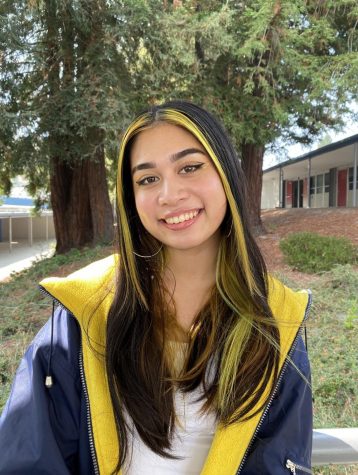 Cyrene Puno, Videographer
Senior Cyrene Puno, a new member of La Puma, enjoys videography and creating video edits.

Puno has been creating videos since she was 9 years old and...