Campolindo Takes Initiative with Black History Month Education
With February being Black History Month (BHM), Campolindo has rolled out a number of activities pertaining to awareness and educating others, including Academy cohort lessons, celebrating 28 Days of Black Excellence, a BHM Art Gallery, and a presentation by Ruby Bridges.
English teacher Darrion Carlyle said that upcoming events this month were "inspiring to see," also noting that Black Student Union (BSU) had updates on their Instagram.
BSU advisor Patrick Turner said that while "Campolindo is rolling out all efforts to address the topic of racism," he still thinks that "discussing [racism] as a true issue in our society is a great start. Buy in will have to come from the community entailing parents and students who are willing to see a different America for African Americans."
With that, Carlyle stressed the importance of what it means to be learning, especially during BHM. "If we aren't willing to accept that we don't know everything, learning is going to be difficult and we won't be able to expand and accept other cultures, other ethnicities, and other types of people in general. But, if we only learn, but do not change how we live based on the information we receive, we are do[ing] more harm for the cause.'"
According to sophomore Kemora Goldstein, "I do still feel like [black history] should be brought up and normalized… so people could be more aware on how it effects and effected our past and future. Also just in general so we could become more comfortable with the topic."
Senior Nicholas Meng agreed. "I think it's important to be informed of all the prominent cultures in our countries to foster a tolerant and safe community."
Some ways to do this, according to Turner, included "[Continuing] to talk about race in the homes, hold[ing] each other accountable, and educating ourselves on the true development and the [economic] issues in America for African Americans."
Sophomore Olivia Feldman said, "We need to work on harder racial equity the other 11 months of the year and not only focus on it the shortest month of the year," in order to see a more "personal and accurate description of our history."
In addition to Campolindo's efforts, Carlyle acknowledged the upcoming ethnic studies class, where it was noted that the class has "only benefits," on the condition that "if we learn the information, and [if] we're willing to change who we are because of the information we are learning. It would have to be both not [just 1]."
Feldman added on to that, saying that "I think there are a lot more insensitive people in this school than we realize so teaching them about it could only do good."
Carlyle said, "There is always something new to learn from ethnic studies, because there are so many different people we can learn about… If we, as Campolindo students, faculty, and staff, are going to change, let's actually change."
About the Writer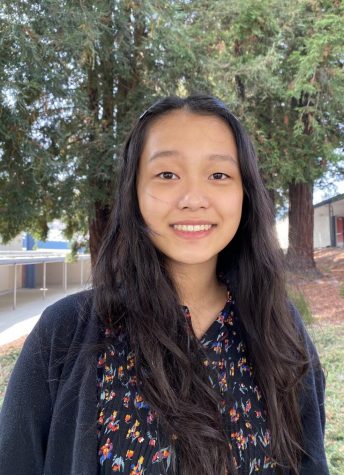 Yasmine Chang, Junior News Editor
Sophomore Yasmine Chang spends her time writing stories and creating new fantasy worlds, drawing on her love of reading.

Chang enjoys fantasy novels....