Cougars and College: Introduction to La Puma's College Advice Column
There is no better way to showcase the Campolindo experience than with the image of an incoming freshman standing a mile away from the edge of a massive canyon. Represented by this obscure abyss is the entire college process. Each test, semester, year is a small step towards the black hole waiting in the near distance, the gorge ahead constantly looming in one's foresight.
Students confer with other students to guess about what it truly feels like to finally reach the edge of the canyon, what awaits at the ground level, and the proper way to get there.
For the 4 long years it takes to finally make it to the precipice of high school and childhood, people fight tooth and nail to maintain spotless 4.0 GPA's, sign up at every other booth on Club Day, and calculate to the thousandth decimal place what percent on the final is needed to maintain a grade of XYZ. Why do Campo students do all these things, push themselves so hard?
For my college applications, these students would answer if they were being honest.
As the oldest sibling in my family, I never had someone to trailblaze the way through high school before me. I had no idea what CommonApp was, nor what made 1 college remotely different from another. So when I made friends with upperclassmen already involved in the college process, I never missed an opportunity to overwhelm them with a barrage of questions whenever the subject was breached. I would seek out peers with older siblings, pocketing every precedent of acceptances, rejections, and more in the back of my mind as I continued ever closer to graduation.
But, as someone who has come out the other end of formally applying, I've realized that there is no way to truly prepare or gauge the lengthy, spirit-draining college application process until you find yourself actually at the edge of glory and take the leap of faith, hoping that all you've done during four long years of walking towards the cliff's edge was enough.
Additionally, with distance learning, there is a greater disconnect between non-seniors and access to face-to-face advice regarding anything from SAT/ACT tips to the spiel of safety-reach-match schools. The biannual check-ins with the College Career Center excursions have not happened in the same way for freshman and sophomores, and younger students do not have as much opportunity to talk with upperclassmen in passing.
After having "written a lot of [her] thoughts down as a way to process going through [her] own college applications," senior Emma Dillard was inspired to help underclassmen students by creating her college advice website Dilly College Application Guide.
"What pushed me to finally make the whole website and Instagram is that I loved those other influencers but I always wished that there was a method to contact them if I had any questions about their posts in relation to me. All this combined sparked me to start my website now so that I could fill it with some key blog posts that come to mind and then in the fall in addition to writing some new posts," said Dillard.
It's unhealthy to constantly be comparing notes, grades, and dream schools with other students as only freshmen or sophomores, but this is the reality of our school's uber-competitive culture nonetheless. Everyone tries their best to maintain the illusion that their path is the "right" path to success (a good college, according to our community). In reality, you can't really calculate the perfect combination of activities and test scores to ensure a competitive application, but these frantic feelings at times can become inconsolable.
"I really do believe that the college application process is so so so different for everyone, as we are all different people," said Dillard.
To provide a sort of connection between the database of personal experiences of the senior class, I hope that this series of articles can do its part in pulling back the curtain to expose the not-so-magical wizard of what comes after high school and explain why college does not deserve a drop of the fear-soaked anxiety it has allotted from Campolindo students alone.
Leave a Comment
Your donation will support the student journalists of Campolindo High School's The Claw. Your contribution will allow us to produce more issues and cover our annual website hosting costs.
About the Writer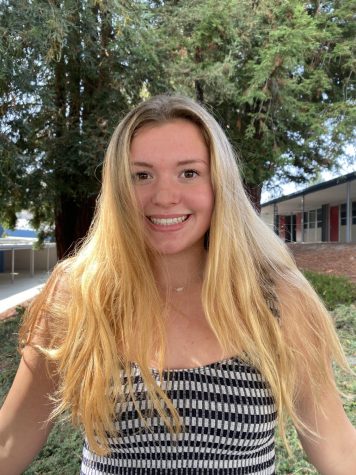 Nicole Kennedy, Opinion Editor
Senior Nicole Kennedy has played volleyball for 8 years and is currently on Campolindo's varsity team. She also played club volleyball at Red Rock East...