Wellness Provides Space to Discuss Capitol Attack
While typically the finalization of presidential election results is a dull and overlooked affair, the joint Congress session certifying Joe Biden's victory in the 2020 election quickly became anything but as a mob of Donald Trump supporters stormed the Capitol building on January 6. Campolindo students and staff found their Wednesday routines upended as news and disturbing images of the insurrection flooded their screens. 
To help students and faculty process the event, Leadership advisor and World History teacher Lindsay Webb-Peploe and Campo's Wellness Team offered time for discussion during lunch the following day. "The events that we witnessed at the Capitol would have been seen or heard by students in class, and we probably would've come into my classroom and put CNN up on the big screen and watched together, so I think it's really important to, as much as we still can, have that time to process as a group," explained Webb-Peploe. 
Senior Jacqueline Artiaga attended the lunchtime discussion along with 12 other Campo community members, and said, "It was reassuring that other students were also feeling angered and overwhelmed by what had happened." Artiaga added that the meeting, "provid[ed] a space for everyone to share how they're doing and with the magnitude of the attack on the Capitol, I thought it was fitting."
"I think everybody appreciated the opportunity to voice where they're at, I think it can feel really isolating to watch these events either by yourself or in your house and so I think it's really good to hear from other students, to hear how they're feeling about it," said Webb-Peploe. 
Throughout the day and following week, students have taken to social media to voice their opinions on the riots.
"I decided to post on my story because I wanted to prove why this act against democracy is terrorism. I also wanted to open up my page for discussion, and my stories are an invitation for people to swipe up and explain why they disagree," said junior Amber Van Meines. 
Many students expressed concern about the apparent lack of action taken by police when faced with the attack. "Storming the Capitol in pursuit of overturning a democratic election is something the police should be fighting against, but it seems as though they focused this attention on Black Lives Matter [protesters] who were exercising their 1st Amendment rights in the face of systemic injustice. This hypocrisy from those who exist to enforce law is really upsetting," said Van Meines. 
"In each of my classes I had students of Jewish faith and background bring up seeing the man in the Auschwitz t-shirts and how distressing that was for them, and I had students bring up how this looked like utter lawlessness compared to the over militarization from the police with the protests that we saw this summer," added Webb-Peploe. 
In addition to the opportunity of the lunchtime processing space, many teachers allotted time during their class periods to discuss what had occurred.
"All of my classes had some sort of discussion about the attack which I really appreciated," said Artiaga. "It's always nice to hear from our teachers outside of their taught subjects, and it was also reassuring knowing that they felt similar things."
Van Meines added that "Discussing these issues in a learning environment with a supervisor ensures respectful discussions."
However, not everyone found these discussions to be beneficial. Several students responded to a poll on the @chslapuma Instagram saying that the discussions were "very biased" and "not inclusive to those who had a different opinion." Another added that, "it was just people trying to out-woke each other. Kind of annoying."
"I think we should discuss current events in class, particularly ones that have to do with our public spaces, our sacred spaces, things that have to do with our constitution," said Webb-Peploe. "1 of the things I was sharing with the students is that I think we've learned that democracy is fragile and that we all have to participate in order to keep it healthy and working, and letting a fringe movement take over is not good for our country."
Leave a Comment
Your donation will support the student journalists of Campolindo High School's The Claw. Your contribution will allow us to produce more issues and cover our annual website hosting costs.
About the Writer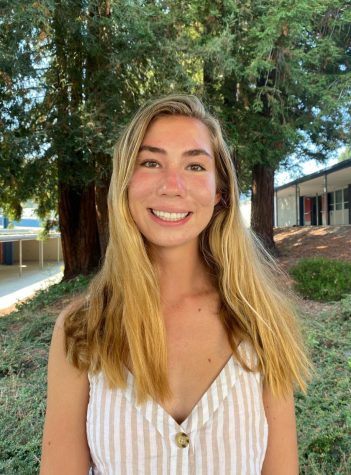 Gracie Woidat, News Editor
Senior Gracie Woidat has a passion for both working and caring for people and animals. She has found her calling by volunteering at the Lawrence Hall of...