Soph Starts Henna Tattoo Business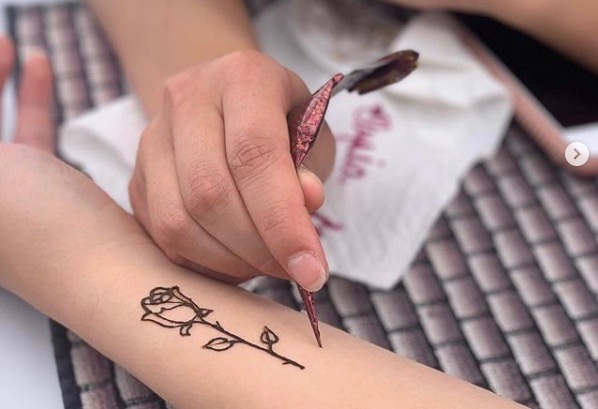 Hella Henna, a henna tattoo business, is the brainchild of sophomore Maddy Ng.
Henna tattoos, which are temporary tattoos applied using henna paste, have origins in the Middle East, Africa, and East and Southeast Asia.
"I first became interested after seeing a friend show up with 1 around her wrist. I thought that it was really cool and it was nothing like I'd ever seen since it was quite different from a regular temporary tattoo," said Ng. "So, I went online and looked up more about it. After seeing how you could express your creativity with henna, I purchased a pack of henna cones to try it out for myself."
Ng, who established her business as a freshman, goes to parties, festivals, and other events to offer her services. "I thought that this would be a really good way to make some extra money since I couldn't get a real job at that age, while also doing something that I love and put lots of effort into," she said.
"She's really good at henna," said sophomore April Mao, who has received a henna tattoo from Ng. "I think it's really cool how she actually has her own business and actually goes to other places to help people and spread the joy of henna."
The entrepreneurial component of her company has provided Ng with valuable real-world experience. "Being a high school student, I think it's a really big accomplishment [to have my own business] and I'm really proud of my work," she said, but "I feel I still have so much more to work on and improve. Having to manage updating the website and social media is sometimes tough because of schoolwork, as well as trying to find and make room for gigs."
Ng showcases her art on her Instagram, @hellahennasf, which has over 100 followers.
Junior Jeremy Enriquez, who has had henna done by Ng, said, "I thought it was very fun to get henna, especially from someone I know. She is really good at it and has a lot of talent."
"I find it very cool and inspirational that Maddy has her own business. I think it's really great that she started her own business at a young age," Enriquez added.