Dow Wins Sports Medicine Competition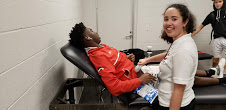 Marika Dow received the Contra Costa County Award for Excellence in Sports Medicine beating out 5 fellow sports medicine seniors.
Ray Albiento selected Dow to represent Campolindo in the Contra Costa County Regional Occupational Program (ROP). The ROP seeks to recognize students in the county who have interests in fields from automotive tech to international cuisine to sports medicine.
In 2009, Albiento came up with the idea of the competition after struggling to find an objective way to nominate a single student to the program. "I asked a couple of teachers and they were like, 'oh, I just pick my favorite kid,' but instead, I thought it would be cool to do a competition," he said.
Albiento and a Campolindo sports medicine alumnus, Patrick White, scored a series of tests that were randomly assigned to each student. The students each had varied versions of the test and were tested on what they had learned over the past year, such as how to perform a tape job and first aid procedure.
"It's not like an exam where you have to write the answers down and everything. It was more like performance and how you give verbal commands. It was unlike a test I've ever taken at Campo. I think it really helped me since you're covering all the things that you need to know for the year," said senior sports med student Yoojeong Kim.
According to Dow, the CPR section was the most difficult part. "It's worth more points than almost all the rest of the test combined but you also have to do really specific things for each one, so I ended up getting CPR itself, having to do the compression to breath," she said.
According to Albiento, "This year out of all my years I knew it was going to be the toughest because we have some pretty dedicated students, and [Dow] was 1 of the students that I felt would do really well but it was a tough competition. It was pretty close," he said.
In fact, Albiento did not expect the intense competitive nature of this year's students. "This year I think there was a core group of kids that were really dedicated and kind of, for lack of a better word, scared off other students from participating," he said.
"I'm not a person who's used to serious situations so I thought it would be more fun but it was more serious than I thought which kind of tripped me up, but it helped me improve a lot," agreed Kim.
Dow herself did not expect to come out on top. "I was nervous because I knew that I screwed up on a couple of different things so I was kind of like, 'Oh, everyone's really good. I don't know if I'm gonna end up getting this award,' but it was really cool that I did," she said.
After being nominated, the county recognized Dow's work, like putting together a sports medicine club and shadowing health care professionals outside the classroom.
After just 2 years of taking sports medicine at Campolindo, Dow discovered her passion for numerous fields in the health care profession. She plans on pursuing a career in athletic training, although she is "still considering all the options."
"I like learning all the different medical things because I do want to go into the medical field eventually so it [sports medicine] was a good step up and then also to teach all the intros this year is a lot of fun," said Dow.