ASB Election: Candidate Statements
Candidate statements for Associated Student Body positions. The election will take place on March 20.
RUNNING FOR PRESIDENT
Junior Christian Markey — "I'm pretty passionate about changing things I see are wrong with the school. We do a lot right at Campo but like anything, we can still improve the announcement system is very flawed and I want to look into possibly making like a weekly video or video bulletin or something where students will be engaged and it could actually get all of the material we're trying to put out. A lot of people go to Nation's, and we can work out a system for just having your ID, you can get 5% off and I think that would be great and everyone can use it. I also want to incorporate free printing. I have a lot of fun ideas and being in a position like that would allow me to implement those."
Junior Chase Giglio — "It seems like it's a good opportunity to get to make a difference at Campo. From this year, what I've seen Katie and Hillary doing, they make a big difference with Leadership and Leadership makes a big difference at Campo so I kind of want to be a part of that, have an influence. I want to increase school spirit, make people enjoy their time at Campo more, make it more enjoyable with all the activities like rallies and dances."
RUNNING FOR VICE PRESIDENT
Junior Meg Balfrey — "I just really like having a big position in the leadership class. Last 2 years, I've been ASB and I feel like I'd be a really good fit for the class. I think that we can do a lot more with the events that we put on and acknowledging smaller groups on campus like more clubs and not necessarily focusing on sports."
Junior Brent Avenell — "I want to be vice president so that I can leave a mark on this school just like everyone else. This school has issues, I mean, no one's perfect, and I think that if I were elected for vice president, I could make a difference and face a lot of those problems… My goal would be to include more people and raise awareness for different things on campus such as sports or clubs or other activities that really deserve a lot more attention."
RUNNING FOR SECRETARY
Junior Juliet Barlier — "I'm social secretary for the juniors this year and I love the position, like reaching out to everyone, taking care of the social media and so I want to have a bigger role next year which is why I'm doing it for ASB instead of senior. I hope to get greater involvement from the student body and reaching out to even more clubs and organizations on campus to get as many people as we can involved."
RUNNING FOR TREASURER
Junior Julia Zapanta — "I was junior class treasurer this year and it seemed like a pretty chill job and I like signing checks, my mom's a banker and I've been kind of in the money world. I just want to make sure we don't spend too much money and maintain our budget. Junior year and senior year, I know we we didn't have enough money to do everything for prom so stuff like that, possibly fundraisers."
Junior Luke Vandenberghe — "I've been in leadership since my freshman year and I've really enjoyed it and I've seen the current treasurer, Chase, work this year and the treasurer position seems like it will be a lot of fun and you get to work a lot with the different people in the office who are all super nice. You get to be kind of hands on in the food drive, handling all of the money that gets donated from all the classes and I just feel like I have a lot of good experience from past years in leadership to be a good treasurer."
About the Writer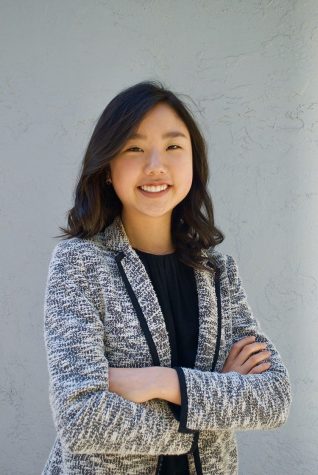 Genie Lee, Lifestyle Editor
Music is something that is precious to many people, but for Genie Lee, it's on an entirely different level. She lives and breathes piano every day of her...