Substitute Brings Energy, Engagement in English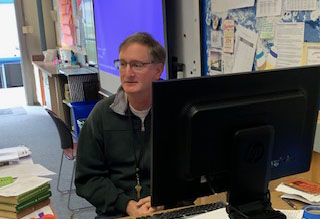 Neal Modelevsky, a 20-year teaching veteran, is substituting for English teacher Lauren Henson while she is away on maternity leave during the 3rd quarter.
According to Henson, Modelevsky will bring "a wealth of knowledge" to her English 2 classes.
Modelevsky has experience in both long-term substitution and full-time teaching. In the Acalanes district, he has been a long-term sub for 10 years. He said his favorite part about teaching is "the whole dynamic of engaging with a class and getting to know the individuals."
Sophomore Sahaana Rajesh said, "I can tell that he is definitely very passionate about English, as he is very enthusiastic during class. I also like how he gave us an audiobook option for the novel we are currently reading because it gives another resource to students who might not enjoy reading as much."
"[Modelevsky] seems informed like he knows what he's doing, and I think he's a good teacher," agreed sophomore Dylan Gunn.
According to Modelevsky, long-term subbing can be challenging because getting to know students within a short period of time is difficult, and sometimes he is given the assignment unexpectedly. "It can be really abrupt, where a sudden illness or tragedy comes up and I need to step in," he said.
To prepare for this sub assignment, Modelevsky met with Henson in order to discuss lesson plans and desired outcomes. It also gave Modelevsky a chance to get to know Henson in order to "adapt" his teaching style to fit the class environment that she has established.
"His style is definitely different because the lectures are a lot more back and forth with students, which makes the lesson more engaging," said Gunn. 
"He is very animated when he is teaching, which will definitely be fun when we are doing our Midsummer Night's Dream assignment, which I think will be more theatrical," said sophomore Katie Strohmeyer.
Modelevsky describes his teaching style as "consistently creative," and likes to "think outside the box."
Despite the challenges that may come with long-term substituting, Modelevsky finds it exciting, and sees it as "more of a welcome challenge than a difficulty."