Silva's Bee Hive Represents "Unity"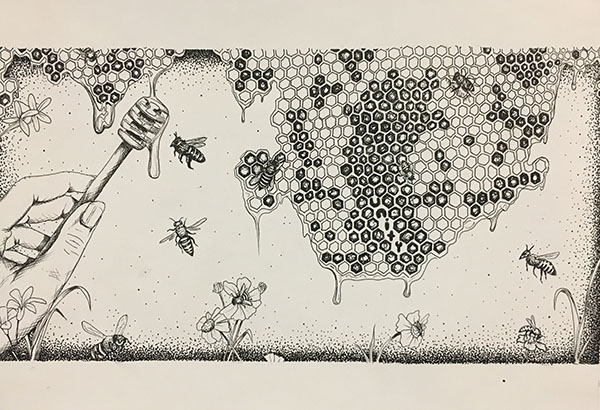 AP Art students, including senior Shae Silva exhibited work in the A Hall on October 3.  Silva's piece is called "Unity."
Each student was tasked with choosing 1 word to represent visually. Silva chose to represent her word with the image of a honeycomb and bees. She wanted to show "society coming together," she said.
The word and the image are related because "bees work together to make their hives and I just really like bees and their honeycomb," added Silva.
The assignment took a week for her to finish. When it was done, Silva was surprised to find it hanging up in A Hall because she didn't know it would be shown along with others, like senior Emma Smith's "Gravity."
However, Silva enjoyed the interpretations her classmates offered for their own words. "I think everyone took their own view on it and did something that meant something to them and chose a word that they wanted to say," said Silva.
Silva is a 4-year veteran of the art program. In college, she plans to major in art. Silva likes art because "everyone views it in their own way from different backgrounds and I think that that is very cool."