Locals Feed Campus Cat Population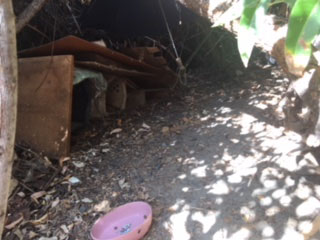 While the school mascot is often represented at sporting events by a costumed leadership officer, students and staff alike are accustomed to spotting actual cats on or near campus, though these feral animals are not approved residents.
According to the head of campus security, Susie Frederich, locals feed the stray felines nearly every night. Most of the people responsible for feeding these cats are dog-walkers that frequent campus after school hours.
"I don't think they are anything to be afraid of. They seldom come near people and are not dangerous," said Frederich.
Behind the shrubs between the maintenance yard near the baseball field, many cats live in crude, man-made shelters made up of several stacked cardboard boxes and a black umbrella.
This hideout includes food dishes, water bowls, and even cushions.
Sophomore Molly Mitchell said this structure has been around for quite some time, and she passes by the shelter every day while walking to and from school. "I think the cat fort is really funny and kind of cool. I love how someone put in the time to help these cats and feed them so they can survive," she said.
Mitchell has never seen the cats approach students and said they seem "mostly scared of people."
But the increasing number of stray cats raises concerns because they may carry rabies or ringworm, which can be transmitted to both humans and dogs. But according to Frederich, locals trap the cats, take them to the vet, and get them spayed or neutered and vaccinated.
Sophomore cross country team member Oliver Flynn runs by the hideout on most practice days. A cat owner himself, Flynn doesn't think the cats pose a threat to students. "They aren't that close to the buildings on campus and they are never coming towards us as we run so I don't think they will ever be a problem," he said.