Teacher's Pet Earns Therapy License
While English instructor Jake Donohoe has been bringing her young golden retriever with her to campus for most of the school year, the well-mannered canine only recently earned his credentials as a licensed therapy animal on April 27.
"I think there is a tremendous amount of therapeutic possibilities with having a pet at school that children get some unconditional love from, and I have noticed, since Otis has been here, that students seem more visibly relaxed when they are around him and he is a nice stress reliever," said Donohoe. 
According to Donohoe, Otis is "uniquely suited for [therapy]" and she would consider another dog to train if they fit in as well to the classroom environment as Otis does.
"He makes it seem more relaxed and more exciting just to have a dog in the classroom and to be able to see a dog every day," said sophomore Alicia Hober. 
Freshman Carmen Horenstein added, "Otis has been very beneficial because whenever I am scared of giving a speech or I have a test and I need to calm down, I can just pet him and he is always there."
To become a licensed therapy dog, Otis had to spend hours in a classroom setting interacting with children on a daily basis.  Now that he is certified, Donohoe hopes he can spend time at the children's hospital as well, "once we overcome some of our jumping," she said.
"I think he will benefit [the hospitals] very much because he is calming and loving, and he just calms people down. He can help out because if they are stressed or sad they can just pet him which I think makes people happier because dogs are amazing," said Horenstein.
Having dogs in other classes would be beneficial and help with stress, added Horenstein. "There are no downsides to having a dog in your class. Only upsides, which is they make you happy and they are pretty to look at, and they are soft… They help calm you down especially since high school is very stressful."
"Otis is proud of his own accomplishments and he looks forward to a fine lifetime of service," said Donohoe. 
About the Writer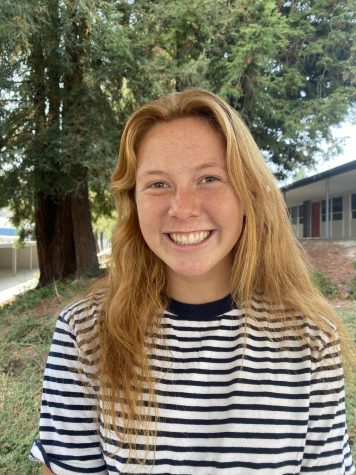 Jessica Rosiak, Editor-in-Chief
Jessica Rosiak, a senior at Campolindo, has always looked forward to exploring new places around the world. "I enjoy going to places that are unique and...