Activity Contributes to Bird Migration Database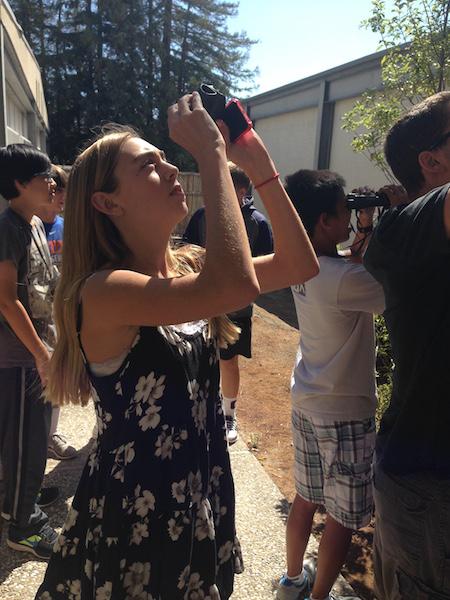 Biology teacher Roxanna Jackman leads her classes on tours around campus to watch birds. The walk is part of Jackman's fall bird project, a semester-long assignment for her biology students.
Though other biology teachers have also done the project, Jackman is the only one to have consistently assigned this project every year. "I have done the bird project every year in my bio classes and I've been doing it since I taught at Monte Vista twenty years ago," said Jackman.
Biology students observe habits and behaviors of birds to record on eBird, an app for collecting bird observation data. The site compiles data on bird migration. "With tens of thousands of eBirders across the globe contributing media, the potential to generate a digital library on a previously unimaginable scale is incredible," the site administrator explained in a recent update.
Students also make or buy their own bird feeder to place near their home. "It's extremely concrete. Every day [students] say 'okay, there's a bird. I can see it.' It's nothing microscopic or so global that you can't actually sit and look at it,"  Jackman said. "It's very clear what you're expected to do on it."
Another aspect of the project involves a bird identification quiz, which consists of, "32 birds that you are supposed to identify. That quiz has a super high success rate," said Jackman. To help her students study, she presents a slideshow with pictures of all the birds.
Jackman added, "I like to do it because many times the bird project is going to get us outside of the classroom, and that's a big philosophy that our science department has… if we have the opportunity to take students outside to learn something we try to take it."
Freshman Biology student Carissa Zhu said, "It's great for us to learn about nature and go outside."
Jackman does admit that not everyone loves bird watching. "I usually hear a lot of complaints during the bird project, especially about the recording of observations; that's the most hated part of it, and I've modified it every year to try to make that more doable for students and give it a purpose instead of a writing assignment," she said. "Occasionally [students] will complain about their feeders near their home attracting rodents or snakes, but more often, about 95%, of the comments I get from students and parents at the end of the year are that they really liked it."