Sports Close Out Postponed Seasons
Editor's Note: In the original article, the baseball team's record was incorrect. It is 2-8, not 2-18. 
Despite being postponed due to the COVID-19 pandemic, all Campolindo sports were able to have abbreviated seasons for the 2020-21 school year.
Basketball: The boys' basketball team is currently undefeated 3-0 in the league and 10-0 overall. According to sophomore Logan Robeson, this year's team has "been different" since starting point guard junior Aidan Mahaney was injured but has, in turn, given a "lot of guys the room to step up."
Robeson, however, attributes the team's success to coach Steven Dyer "who has done a really good job at getting guys to do what they're supposed to and do it consistently and at a high level."
Despite a similarly shortened season due to its yellow tier status, girls' basketball has been performing well with a 2-1 standing in the league. "For the short amount of time we've had to get ready for this condensed season I'd say the season is going pretty good," said senior Meg Larson. Larson hopes the team continues "developing individual skills of each player and growing as a team" after she graduates.
Football: The varsity football team finished its season undefeated both in league play and overall. Although proud of his team for a perfect season, according to coach Kevin Macy, "what made it [the season] special was that competition was of a high caliber. The first 5 games were played at a level associated with play-off competition. The players were extremely emotional every week."
While the team only got to play 6 games, "the senior-laden team made the most out of the season" and "nothing was wasted in the 6 game experience" said Macy.
"The community got the best show in town. Most of our games had to be won in the 4th quarter in a dramatic fashion. It was magical in the way that every player made a contribution to the season and all the seniors performed at the highest level," added Macy.
Besides providing athletes the opportunity to play again, the addition of a football season "brought life back" to Campo. "The football season gave the community something to celebrate in nearly a year. It was the first time smiling faces were witnessed in over a year," said Macy.
Wrestling: Due to the high-contact nature of the sport, the wrestling team has been unable to hold formal meets but competed informally against Los Lomas, Berean Christian, and Acalanes.
According to coach Nikko Triggas "all went really well, and it was good to see competition. We always have great talent and this year like other years it was about learning and growing."
Triggas noticed how "the seniors on the team were stepping up to lead and making sure to pass things onto the other athletes" and in turn "the junior class is stronger than any other and they know what they are doing. The freshman and sophomores are showing good work ethic and talent."
Volleyball: The boys' volleyball team finished its season with a 6-0 overall and 2-0 league standing. While it was "very fun to get back out there and play again," junior Josh Ewert was disappointed that the season cut short due to COVID-19 as he feels "bad for the seniors, not being able to play a full season."
The girls' volleyball team is currently 2-0 in the league and 4-1 overall. While initially skeptical of having a 20 person roster, senior Molly Mitchell has noticed that "everyone's pulling it together and having an awesome time."
Senior Laura Studebaker similarly sees potential in the team's expanded line-up and is hopeful that the team will "keep this upward streak going for the rest of the season."
Soccer: The boys' soccer team rebounded after a slow start by wrapping up its season with a 1-10-1 standing. According to senior Steven Metcalf, the team "started the 1st few games off pretty roughly" but after each loss they "kept improving and fighting, getting tangibly better every game and growing our confidence and chemistry."
"This was really astounding to me, as I've seen teams fall apart collectively, but despite our struggles, it was the opposite for us, and we only became more closely bonded as we fought together," said Metcalf.
Along with COVID-19 restrictions, the team had to adapt to having a new coach, proving this season to be a "difficult adjustment" for many athletes. The new coach Steve Chappell, a former coach of Northgate High School and executive director of Walnut Creek Surf Soccer Club, "is very experienced and a great asset to this program, though there's not much he could have done with such the little amount of time we were given as a team this year" according to Metcalf.
Girls' soccer is undefeated 4-0 with 3 weeks left in the season. According to senior Lindsay Davis, besides wearing masks and having a game canceled due to a player on the opposing team testing positive for COVID-19, this season has been "pretty normal".
Davis hopes to see everyone "come together as a team" for the final weeks of the season. "We all know what it feels like to get our sport taken away so we are giving our all to every chance we get," said Davis.
Tennis: The girls' tennis team recently wrapped up its season with a 3-2 league standing as well as a successful pre-season performance. Senior Noel Seo was "disappointed" to have only played 5 games but "grateful to have played at all given the circumstances."
With 6 out of the 14 players being seniors, the varsity team will have to compensate for the loss of experienced athletes on the team for the upcoming season. However, Seo is confident that the team will continue to be successful without the graduating class. "The underclassmen on the team are super committed, and I have no doubt that as they get more game experience they will become stronger players," said Seo.
The boys' tennis team ended its season in mid-March with a 4-1 league standing. Despite a late start, the "season was awesome" and "everyone had fun and stayed safe" according to senior Arjun Chhabra. With only 4 graduating seniors, the boys' tennis program has a young team that is certain to continue its success next season.
"I am excited to see them grow over the next couple of years," said Chhabra.
Water Polo: The boys' water polo team went 4-1 in the league and 4-5 overall this season. Being a purple tier sport, water polo was able to start its season as early as December 7, which according to sophomore Thomas Colpo was "great how the team got as many games in as possible."
"I think that the whole team was just incredibly happy to have any sort of season at all," added Colpo.
Girls' water polo is currently 1-3 in league with 2 more games to play and 3-3 overall. According to junior Maggie Hawkins, "this year is definitely a different team dynamic" but "everyone found their spot throughout the season." Hawkins, however, believes that "having more time to grow and develop" would have positively impacted the team's performance.
Lacrosse: The girls' lacrosse team went 9-12 for its season. According to senior Kennedy Merrion, this year's team was "super talented and dynamic" and all of the athletes "worked really well together."
"There are some extremely talented juniors/underclassmen and I am excited to see how they do next year," added Merrion.
The boy's lacrosse team is currently 4-1 and placed 1st in the DAL with 5 games left in their season. According to senior Sam Rack
"Our season is going great…. We are only halfway through and I think I can speak for everyone that we are just happy to be out playing again." At the moment they are placed 1st in the DAL and have 5 games left in the season.
Baseball: With 7 games left, baseball is currently 2-8 and is trying to make the most out of the rushed season. According to coach Max Luckhurst, "everyone is just learning on the fly" as 7 out of 13 players on the team were also playing football, whose season overlapped with baseball this year. With play-offs being canceled due to COVID-19, Luckhurst is focusing the rest of the season on "trying to get the younger players some experience and ready for next year."
Golf: According to head coach Gary O'Neill, the girls' golf team "had 1 of [its] best seasons in a while." O'Neil attributes much of the team's success to the performance of senior Ainsley Murphy who was recognized as a 1st team all-Diablo Athletic League (DAL) golf athlete as well as junior Alyssa Lewis Smith and sophomore Anna Mooradian who were awarded Honorable Mention all-DAL status.
The boys' golf team also had notable success by being undefeated in match play and winning the DAL Tournament. Highlights of the tournament were sophomore Justin Rodriguez placing 1st and being recognized as 1st team all-DAL, senior Baron Szeto placing 2nd and being named DAL's player of the year, and senior John Lagomarsino being named to the all-DAL golf 2nd team. According to O'Neil "while it is sad that the postseason tournaments were canceled, overall it was a great season for Campolindo golf."
Swimming: The Campo swimming team ended its season on March 26 and although not given a formal ranking, were likely to place well at North Coast Section (NCS) and State, according to senior Maggie Buckley. As a purple tier sport, swimming was one of the 1st sports to resume as well as had minimal adjustments made for COVID-19 besides an abbreviated season. Although not placed under as many restrictions as other higher-risk sports, many of the team bonding traditions were canceled, and the overall enthusiasm of athletes declined due to the pandemic.
"In terms of culture and 'spirit,' it was lacking a little bit because we didn't have the typical events we bond over. However, I do think the team made the best of a bad situation. Usually, we go on a travel trip to Irvine and after the swim meet we go to Disneyland and that's a really important bonding moment for everyone. With the absence of that event, we were held back by the limited time and restrictions," said Buckley.
Regardless, "the team was able to bond and have fun despite such limited time" according to Buckley.
Diving: Due to its classification as a purple tier sport, the diving team was able to compete with all other DAL schools and concluded its season on March 27. According to coach Eric Holzheimer, as compared to other sports, diving had a "unique" situation "in that multiple schools from the same league who are competitors, practice, and train together in a very peer-supportive environment."
In regards to specific athletes that stood out on the team, Holzheimer mentioned "2 up-and-coming freshmen (Emily Sakamoto and Samantha Driver) that did an amazing job and made the varsity team their 1st year and did so in less than 7-weeks. Neither had dove prior to the high school season. They 'jumped in' and had a goal of making the varsity team."
Softball: The softball team concluded its season with a 4-9 overall standing. According to junior Sarah Tallarico, although the team lost more games than won, they "still played really well and were competitive" and "worked together as a team." After having both the 2020 and 2021 seasons cut short due to COVID-19, Tallarico is looking forward to having a full and normal season next year.
Cross Country/Track and Field: Campolindo Track and Field operated optimally despite COVID-19 restrictions at meets versus Los Lomas, Acalanes, College Park, Miramonte, and Jesuit High School. Junior Rhys Pullen thought the "season was solid and gave opportunities to compete" but feels as though the "district was difficult and hindered" the team with COVID-19 regulations.
Although 11 graduating seniors will be leaving the roster, there are many young athletes such as freshmen Daisy Penney and Makena Weberski as well as sophomores Caroline McCool and Ellie Buckley, whose performance provides hope for future seasons of success.
Cheer: Campolindo's Competitive Cheer Squad joined the sideline squad throughout the year in order to get time in front of an audience. Sophomore Keke Golstein said, "The season is keeping us very active and going well. We're looking forward to next year."
About the Writers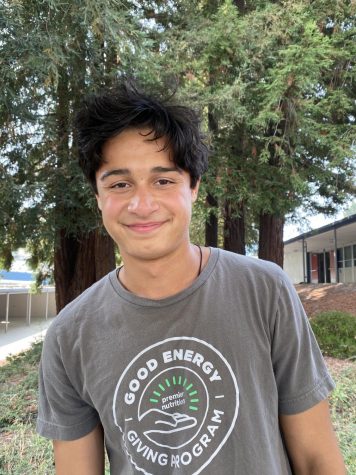 Thomas Singh, Staff Writer
Sophomore Thomas Singh likes running for the Campo cross country and track teams and has a passion for reading, especially historical fiction.

This...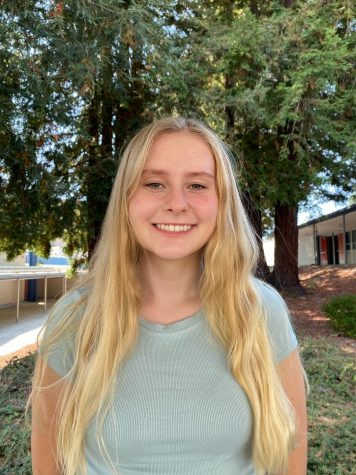 Erika Riedel, Sports Editor
Senior Erika Riedel enjoys volunteering and spreading awareness for multiple organizations. This summer, she volunteered at a number of places, including...