Swimathon Fundraises for Diversity in Aquatics Club
The Campo Swim DEI (Diversity, Equity, and Inclusion) Swim-a-Thon raised over $3000 for the Diversity in Aquatics Club from March 17 to March 26.
All of the money raised was given to the Diversity in Aquatics club, the nation's largest and most prominent organization that works in effort to bring quality level aquatic opportunities to lower income areas. The funds will aid the organization's goal of limiting the number of people in minority communities who drown each year by teaching water awareness and safety.
According to the Centers for Disease Control and Prevention (CDC), "African American children ages 5-19 drown in swimming pools at rates 5.5 times higher than those of whites," hence the Diversity in Aquatics club's mission of helping these populations.
"Minority children of all ages are at a significantly higher risk of drowning, and the disparity is most pronounced in swimming pools," said varsity team parent Ginger Stambaugh.
In the days leading up to the event, swimmers collected sponsorships from their friends and family. Depending on the sponsors preference, the donation could have either been a flat rate or a pledge based on the amount of laps the swimmer completed, with the suggested amount being $1 per lap.
Freshman Maddie Blackwell, who took part in this fundraiser, was crowned as the top donator.
Sophomore swimmer and waterpolo player Lauren LaCour believes these fundraisers are crucial for Lamorinda residents to not only give back to underserved communities but also as a means of recognizing their own privilege.
"The feeling that you receive after taking place in community fundraising events where you know that you are helping people in need is completely and utterly unmatched. It helps me feel an immense amount of gratitude for the privilege that I was raised with," said LaCour.
About the Writer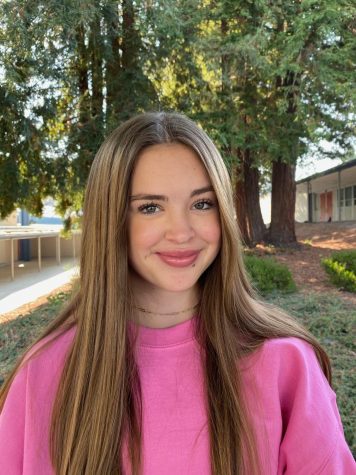 Ella Hack, Staff Writer
Sophomore Ella Hack has embraced change throughout her whole life. Whether through sports or the country she's living in, Hack enjoys new activities...