Girls' Golf Grapples with Less Practice Space
The girls' golf team has adjusted its practice setting since the sport's commencement on February 8 due to decreased availability of the Moraga Country Club (MCC).
The MCC has commonly been used by Campolindo golf teams for practices and matches. Starting on March 1, the team has been able to use the MCC public putting green for practice as usual, "which is great because that's much better practice than just chipping and putting," said senior Emma Torres.
However, the driving range is currently only open for members to practice on.
"We are allowed to use MCC for matches but we can't practice on their course or range as a team. So that means we cannot warm up before the matches which can be challenging," said senior Ainsley Woodford.
Woodford explained that the driving range's exclusivity is because "lots of people are working from home and will go play after they finish their workday, so there is not a lot of availability as we have experienced in prior years which had MCC decide not to let guests use their facilities for now."
The team has since been utilizing the practice green and a makeshift driving range that was created near the Campo softball fields. Additionally, the players who do have club memberships are able to go on the range and practice independently.
According to sophomore Anna Mooridan, not being able to use the range is "annoying because working on your golf swing is a good part in improving with feedback from coaches."
"I wish we could use the range but the course and the green are enough right now," added Torres.
Since golf is an outdoor and low-contact sport, the team has been able to have matches. According to Woodford, this year's matches aren't much different from pre-pandemic ones besides the addition of players having to wear masks.
So far, the team has secured 2 victories. One of which was against Acalanes on March 10 in a forfeit due to Acalanes not having enough players to compete in an official match. The other win being their defeat of Northgate on March 11 with final scores of 203 to 208.
Despite their early victories, the team has been struggling to recruit new players.
"There is a lack of girls any younger than me that are going to Campo that are interested in golf, even then I am the only sophomore on the team," said Mooridan.
Regardless of the uncertainty surrounding the program's future, Torres is thankful for the return of her sport and looks forward to her final season.
"I think COVID has affected everyone's motivation, but I'm just trying to stay positive and have fun and not take things too seriously considering it's my last year on the team," said Torres.
According to Woodford, her favorite part of this year's season has been reuniting with her teammates.
"It was also great to see people while we were fully distanced and still have that human connection," said Woodford.
About the Writer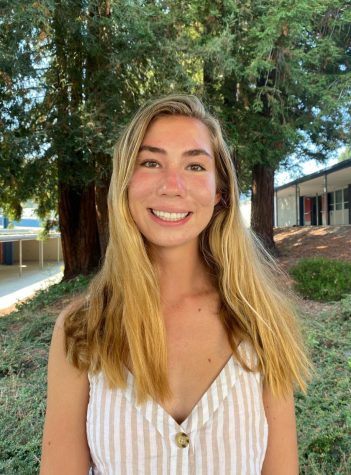 Gracie Woidat, News Editor
Senior Gracie Woidat has a passion for both working and caring for people and animals. She has found her calling by volunteering at the Lawrence Hall of...