Cougar Chats: Q&A with Broadway Actress Erika Henningsen
Since her time cultivating her talents and passion for the arts through Campolindo's performing arts community, 2010 Campolindo alumna Erika Henningsen has since made a name for herself on the revered Broadway stage.
She is widely recognized for originating the role of Cady Heron in Mean Girls, the 2018 Tony-nominated musical adaptation of the popular early 2000's movie. Henningsen also uses her platform to engage in social activism and philanthropic efforts, including her role as an ambassador for "She's the First," a nonprofit organization that fights gender inequality. During the 2020 presidential campaign, Henningsen partnered with @producingblue to create the "First Time Voters Club" in an effort to increase political participation among young Americans.
Henningsen caught up with The Claw for a Q&A on her path from Moraga to Broadway, conducted via email. The following has been edited for length and clarity. Any alterations are noted with brackets and ellipses.
Q: When you were in high school, did you already have dreams of becoming a Broadway performer?
A: I knew I wanted to pursue theater and life as an artist. I'm sure somewhere in the back of my head was the specific desire to be on Broadway, but I tried to focus on simply committing to the work. I remember thinking that if I got to spend a little bit of each day getting better and sharpening my skill set, the road would open up and lead me, hopefully, to a career as an entertainer.
Q: Were you involved in the Campolindo choir and Spring musicals, and if so, how did those programs help you grow?
A: Yes! I spent four years as a member of the Campolindo choir programs and did the spring musical every semester I could. I think choir is an incredible tool for young artists: it teaches you rudimentary skills like sight singing & tone, but it was really important in honing my understanding of teamwork. Choir focuses on the group as a whole: you become part of something bigger than yourself. Beyond my work onstage, I've always tried to lead by example offstage by cultivating an environment of support and camaraderie, whether I'm playing a lead or in the ensemble…Also, shoutout to Dave Pinkham for somehow corralling hundreds of high school students with more grace and calm than any director I have worked with since.
Q: Outside of the arts, did you have any favorite classes or clubs at Campo?
A: I loved Mock Trial and Model UN…Model UN and Mock Trial were essentially just more chances to perform, but with the added challenge of having to improvise and think on your feet (thanks Mrs. Kerr for letting me be on the Security Council team for my final year). Also, Herr Blumberg and Jamie Donohoe fed my love of language and literature and I truly miss reading Goethe and Shakespeare with their guidance. I wasn't the most concentrated student in subjects I had trouble with (sorry, Mr. Petreas, your music was awesome though!), but I was enthusiastic and wanted to try everything. Except track….I never got the hang of the whole running thing.
Q: Is there something that is the most memorable about your high school experience?
A: The spring musicals were truly a defining moment of my high school experience, but less because of the chance to perform and more due to the support and encouragement of the community. I so admire how our school upholds the arts and encourages its importance in students' lives. The fact that all our teachers, my friends and their parents, my counselors, my swim coaches etc would try to attend the musical was a testament to me that theater and the arts were not expendable or forgotten. I so appreciate Campo and our community for instilling that faith in me.
Q: While you were building your acting career, what were some of the largest challenges you faced and how did you overcome them?
A: I think rejection is and continues to be the largest hurdle. Even after making my Broadway debut in Les Mis, I had two years following that production where I wasn't on Broadway, got rejected a ton, and had to keep reminding myself why I chose this career. Rejection is a necessary evil in this field: it teaches you humility, perseverance and to trust in your craft, even if no one is bidding on it. I've overcome some of the bigger slumps by recommitting to the work (getting back into class, voice lessons, etc) or by cultivating other parts of my identity that are important to me: I love teaching, I care alot about engaging young people in the political discourse, I'm also an avid reader and nature lover. These things may sound small or trivial, but I think the more interests an actor has, the less likely they are to experience burn-out or dissatisfaction with our unpredictable line of work.
Q: After wrapping up your time as Cady Heron in the musical Mean Girls, what were some lessons you learned from being in that production?
A: The biggest lesson I learned was to trust myself. I spent a lot of time trying to figure out what the artistic team wanted, what the audience would want, what Mean Girls fans would want: ultimately, I felt like I figured out Cady a few months into the run when I stopped trying so hard and went with my instincts. I placed such pressure on myself during rehearsals to do everything "right": but, as soon as I was doing the show 8 times a week on Broadway, I found myself more free to play and experiment. My goal, now, is to start at that playful level of curiosity on day 1 of rehearsals, instead of thinking everything has to be perfect the first time. I also learned that I love the responsibility of being a lead. Not the attention, but the ability to set the tone and "lead" by example. On our first day of rehearsal, Tina Fey brought in a copy of The Four Agreements (go read those if ya haven't!) and quoted some amazing Italian motto which basically says, "The fish rots from the head." As the "head" of our show, I remembered that moment and realized my job would be way more than just performing Cady: it would be creating an environment of minimal ego and maximum teamwork.
Q: Do you feel very connected to the characters you play? For example, how meaningful was it to partner with the African Library Project to collect books for Migori County, Kenya, near where the fictional Cady lived?
A: I definitely think, when you sit with any role 8x a week, you adopt certain attributes. For example, when I was playing Fantine in Les Mis, I remember going through a bit of a "dramatic, lost-love" phase, which, honestly, helped me connect to the character. With Cady and Mean Girls in particular, I was so humbled by people's response to the show that I felt I had to use the opportunity for something greater than myself….ALP [African Library Project] and I started working together and hatched a plan to collect books at the stagedoor with the intent of creating a library for a girls school in Migori County. When they told me Migori was only a few miles away from the [Massai] Reserve (where Cady grew up), it felt like kismet. Seeing the donatations come in every week, and then having the Mean Girls Cast help box up and ship the 1,100+ books to Kenya was and is one of my favorite memories of that era.
Q: Throughout your career, you've continued to participate in philanthropic work, such as your recent partnership with She's the First helping girls affected by the Covid-19 pandemic. Why is the cause of female empowerment significant to you?
A: I so admire this younger generation because I think they've grown up in an era with outspoken, courageous women at the front and center of political movements, cultural moments, and national reckonings. I certainly had female role models growing up, but the new wave of female leaders like Greta [Thunberg], Michelle [Obama], AOC [Alexandria Ocasio-Cortez], Malala [Yousafzai], and Stacey [Abrams] has been incredibly inspiring to me…This wave has also been in direct contradiction to the rise of influencer celebrities. I think my goal is to direct attention away from social media stars who may lower a young woman's self esteem or sense of worth, and towards the individuals and causes that are creating real, substantial change. Women, especially women working together, are unbelievably powerful.
Q: What are you hoping to do when the time comes from the theater to open back up? Do you plan on returning to the production Flying Over Sunset, or FOS, or have new opportunities come up?
A: As of now, I am unable to return to FOS due to some TV conflicts. I was fortunate enough to dip my toe into the TV world this last year; but, due to the unpredictability of shooting schedules, won't be able to commit to the whole rehearsal/performance schedule of FOS. I love that trippy, awesome show though and can't wait for people to see it.
Q: If you could go back in time and give your high school self advice, what would it be? Similarly, what advice would you give to current aspiring performers?
A: I think I would tell myself that life isn't graded and there is no "right" when it comes to theater. I'm still learning that lesson and trying to get better at trusting myself and my instincts…it's a journey for sure! To aspiring performers, I'd say it's great to have role models, people you look up to etc. But, I think when we start trying to copy people that we lose our own sense of self and creative identity. I spent years trying to be the next version of Sutton Foster, Kerry Butler (queens, both of them), and it wasn't until I released that and focused on bringing myself into the audition room that I had any success. So, figure out what makes you uniquely yourself and charge ahead in that direction without looking back.
About the Writer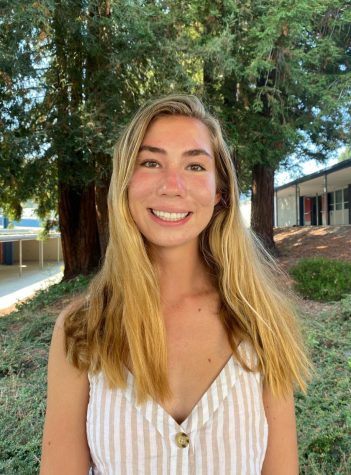 Gracie Woidat, News Editor
Senior Gracie Woidat has a passion for both working and caring for people and animals. She has found her calling by volunteering at the Lawrence Hall of...