Girls' Basketball Beats Alhambra at Buzzer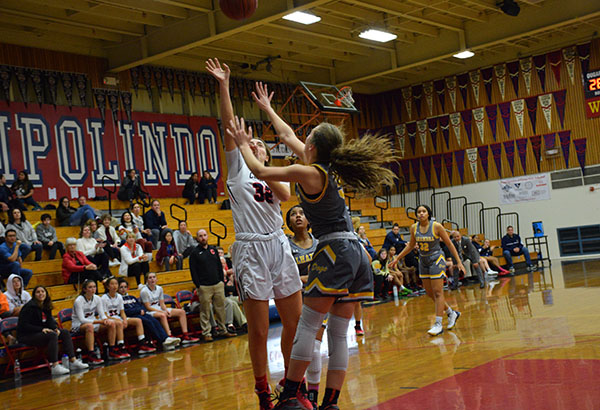 In Hollywood sports movie fashion, the varsity girls' basketball team defeated Division 3 North Coast Section rival Alhambra High School, coming from behind with a buzzer-beating 3-point shot to win by 1 point on their home court on January 31.
According to head coach Matthew Kirby, the intensity of this game provided the team with much-needed preparation for their upcoming postseason. 
"As much success as we have had this year, we have kind of struggled in close games, especially earlier this year, so this really helps us going into playoffs because there is not going to be any 15-20 point blowouts," said Kirby. 
The Cougars played tough early, securing a 3-point lead at the end of the 1st half. 
Coming out of the break, the squad struggled offensively and the Bulldogs pulled into the lead.
In the 4th quarter Campolindo battled to within 2 points before senior Natalie Barkey hoisted up the final shot from behind the 3-point arc.  The dramatic finish earned the Cougars a 43-42 victory.
Senior Kate Brown believes the team won because they "worked really, really hard" and "wanted it really bad."
"It is the 2nd round [of League play]  so we need to get all the wins we can get," said Brown, who anticipated a close match, but "did not expect it to be a 1 point game.
"I think [this game] will give us more confidence in being able to finish in close games," said freshman Camile Yabu.