Cross Country Sweeps League Titles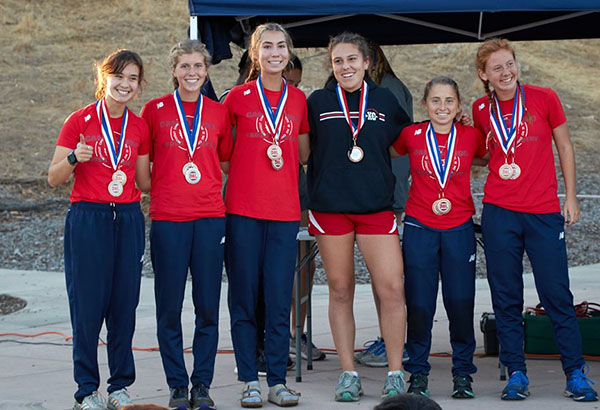 The cross country team swept all 6 divisions (boys' and girls' frosh soph, junior varsity, and varsity) at the Diablo Athletic League (DAL) Championships held at Hidden Valley Park on November 9. Campolindo athletes also claimed 5 of the 6 individual titles. 
The closest team battle of the day came in the frosh soph boys' division. "We were not winning that race through the 1st mile and we weren't even really winning it until about 400 [meters] to go, where we made up a bunch of ground," said Campolindo coach Andy Lindquist.
The frosh soph boys were helped by a 1st place individual effort from Sam Smith. The returning sophomore took control early and built his lead through the finish.
But while Smith was running at the front, several of his teammates were battling back from a slow start.  Both College Park and Northgate were ahead in the team scoring at the mile mark. "I think every other team race was pretty much determined very early on and that was the only one that really came down to the wire," said Lindquist of the frosh soph boys' come-from-behind win. 
Sophomore Carson Boone was a critical scorer for the squad.  The freshman moved up nearly 20 places over the final mile.   According to the freshman, he wanted redemption for his squad's defeat at the hands of Northgate at the 2nd DAL center meet on October 30. "On the 2nd DAL center meet our team lost so it definitely encouraged me to do better because obviously I wanted our team to win," said Boone. 
The varsity girls' squad showed why they are ranked #1 in the North Coast Section and #3 in California for division 3, placing 7 athletes in the top 15.
Senior Ellie Guthrie felt that the varsity girls' performances showed their potential for the postseason. "Our team feels very strong and has so much depth, which is pretty promising because we have pretty high aspirations for the postseason," said Guthrie. 
Both varsity squad will face off agains the rest of the NCS division 3 schools on Saturday, November 23 at Hayward High School.  Should the teams qualify, they will compete at the state championships on Saturday, November 30 at Fresno's Woodward Park.