Frosh Soph Beaten at Final Regular Season Meet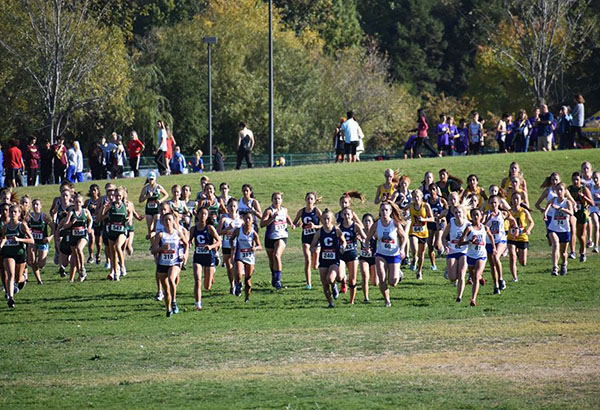 The frosh-soph girls' and boys' cross country squads were both defeated by a single point at the final Diablo Athletic League (DAL) center meet at Newhall Park on October 30. Meanwhile, the boys' and girls' junior varsity and varsity squads finished their regular seasons undefeated. 
The frosh-soph girls lost to Acalanes 28-29 and the boys lost to Northgate 28-29. According to assistant coach Andy Lindquist,  "[The frosh-soph squads] didn't put themselves in position relative to where they needed to be in the race and they just couldn't make up any ground and they were just staring off into space instead of focusing on beating the people in front of them." 
Sophomore Finn Jordan, who placed 3rd in the frosh-soph boys race, said, " We really need to build as a team and partner up and make sure the guys know exactly where they should be or else it is not going to work out."
The junior varsity girls, led by junior Sydney Roberts, took the top 4 spots in their race. According to senior Bianca Pierrat the underwhelming performances of the frosh-soph squads inspired the junior varsity girls to step up. "[Head coach] Chuck [Woolridge] came over and had a serious talk with us and was putting a lot of pressure on us to win, so yeah, I guess that kind of factored into why we did so well," said Pierrat. 
According to Lindquist, both varsity teams broke the school record for team time on the 2.95 mile Newhall Park course. The team time is the combined time of a team's top 5 finishers.
"I think that really sets us up really well for the postseason," said Lindquist. "We have made a huge jump over that past month and we are only going to get better."