XC Sweeps League; Celebration Stalls on Return Trip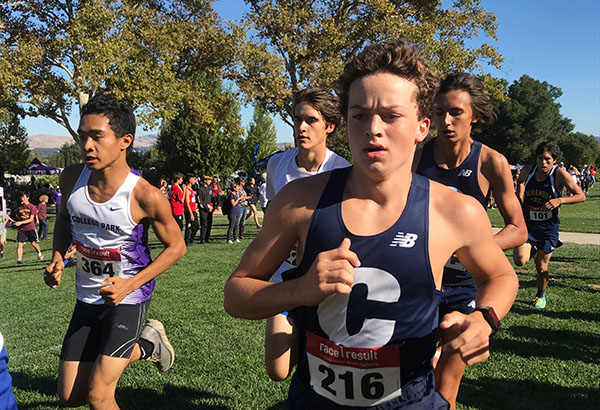 It was an unusual way to celebrate what had been a banner day for the Cougar cross country squad, stranded along the sidewalk on Contra Coast Boulevard in the growing darkness.
The team had just swept the Diablo Athletic League meet at Hidden Valley Park in Martinez on October 2, defeating the other 12 teams in each of the afternoon's 6 races.  The Cougars also managed to claim 4 out of 6 individual victories.
As the athletes were being transported back to campus however, the bus was forced to pull off the road due to a malfunctioning water pressure system. Athletes were evacuated.  A replacement bus was summoned.
30 minutes later, athletes were boarding the 2nd bus and on their way back to campus.
According to bus driver Marvin Evardo, this type of breakdown is unusual. "Usually it happens before it starts going, like [the bus] doesn't start. Usually if you are already on the move [the bus] doesn't break down. This is the 1st time I have helped out in the middle of a ride," said Evardo. 
Athletes returned to Campo about an hour after their expected arrival time. 
According to sophomore Sam Smith, the malfunction provided an opportunity for the team to bond. "I was worried at 1st because I wasn't sure how we were going to get home or what was going to happen. But it ended up being pretty fun, we hung out and got hyped. " 
Senior Ellie Guthrie was proud of how the team conducted themselves. "For the situation, it was good, everyone was respectful and quiet. [Sophomore] Marco Chao even lent the bus driver a charger for the day, which was awesome and funny," said Guthrie. "For the circumstances it was good; everyone was tired but everyone handled it well."
Highlights from the meet included the varsity girls' upset of pre-meet favorite, College Park. According to assistant coach Andy Lindquist, "I thought we had a chance, once we put [senior] Paloma Hancock in, to beat College Park, but having a change and actually doing it are 2 different things."
Hancock, who has been injured, was in the lineup for the 1st time since an injury had sidelined her in the spring. She had been practicing normally for approximately 2 weeks leading up the DAL meet. "I tried not to let that discourage me because I knew what I had to do and this is a team sport and I knew I had to play a part in it," said Hancock.