Doane Sets Meet Record at Granada Invite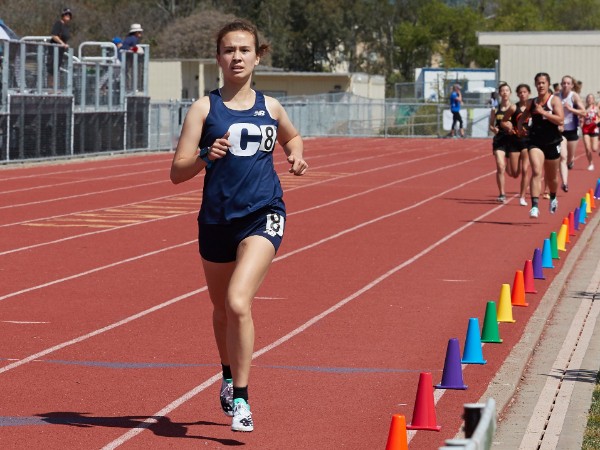 Maddy Doane closed in on the track and field 400 meter school record with a meet-record run at the Granada Distance, Sprint, and Throw Festival on April 13.  Doane's time of 56.82 is just 0.4 seconds behind the time set in 1980 buy current Campolindo physical education teacher Alison Adams.
Doane, who has been dominating the league in the sprinting events this season, said that the meet was a "good opportunity to run against people we don't usually run against and PR."
Doane joined freshmen Emily Hatch and Kyrstin Wilson, and sophomore Terryal Bell to clock 49.62 4x100m in the 400 relay.  The mark is 2nd on the Campolindo all-time list.
Senior Lucas Moore threw the disc 137′ 10″, the top overall mark at the meet. Sophomore Matai Bell threw 42′ 2″ in the shot put, out-performing his teammates.
Coach Tim Hunter said that the meet put people on the right track after coming back from spring break, helping them "remember how to race again," and how to keep the team together.
Junior Mia Travis improved by 10 seconds to run a 5:33.33 in the 1600m. Vishal Laskari broke 5 minutes in the same event.
Sophomore Sydney Roberts ran 12:52.2 for the 3200m, breaking away from the 2nd-place runner in the last 200m.
Athletes were seeded in heats with competitors of similar ability. The top 3 of each running event and top thrower of each flight won a shirt. "Everyone in the heat has a chance to win but its a much smaller meet," said Lashkari.
Hunter added that the meet, as a whole, is "the beginning of the confidence boost" that will lead right into trials, and the team is just "riding the wave."