Acalanes Match Sparks Volleyball Losing Streak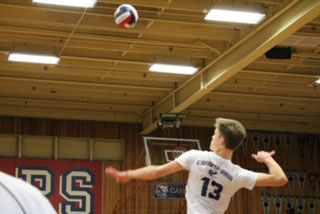 Boys varsity volleyball suffered a series of disappointing defeats, beginning with their April 10 loss to Acalanes.
The loss to the Dons was particularly frustrating since the squad was hoping to avenge it's 2018 playoff  struggles against Acalanes.
According to sophomore player Justin Lineweaver, their play against Acalanes "went downhill" after winning the 1st set 25-18. The lack of teamwork and miscommunication led to Cougar's demise in the 2nd set where the team was beaten 15-25.
"It felt like everyone was playing as individuals rather than as a coherent team," Lineweaver said.
Sophomore player Jeremey Enriquez agreed with Lineweaver and is frustrated that Campolindo has lost the past 3 games against Acalanes. "I think we can totally win, but we just have yet to perform well enough during a game," he said.
Team fan Emma Dillard said, "They put up a good fight, it could have gone either way."
According to Enriquez, the next time they play the Dons will be on their home court for their senior night. "That will be a tough game, but all we can do is put in the work at practice," he said.
Unfortunately, the team was beaten by Northgate, the team at the top of the Diablo .
According to 1st-time varsity player sophomore Brett Eisner, their week of losses makes them want to "work hard at practice to finish up the season as best [they] can."
"Our coaches think we can do better, and we can. It all depends on how we bounce back," said Lineweaver.