Volleyball Poised to Face Dons after Win over Falcons
Boys' volleyball crushed College Park 3-0 in an away game on March 26.
The win brings the squad into a tie with rival Acalanes atop the league standings heading into their upcoming game against the Dons on April 9.
Prior to the win over College Park, the boys had been beaten by Northgate.
Losing to Northgate in a 5 set match was "eye-opening," but inspired the team to improve, according to sophomore Justin Lineweaver. With the scores being 25-18, 25-17, and 25-19, he thought the team played very consistently.
"We did not want to lose another league game, especially with Acalanes playing us next week," said Lineweaver.
The student crowd at College Park also wasn't as big or intimidating as Northgate's the week before, so Lineweaver thought that made their win easier.
Freshmen Josh Ewert thought the "passing could've been better," but for his 1st time playing College Park this season, he believed his team did well.
Assistant coach Zach First "was impressed with the fight [they] gave in the last points." However, he believes they still have a lot to work on in preparation for their match against Acalanes.
"The Acalanes game coming up will be very high stakes, and we cannot afford to lose," said Lineweaver. He believes the team's chances of being selected to the NCS tournament will be slim if they fall to the Dons.
According to sophomore player Brett Eisner, the team has already lost to Acalanes at a tournament this season, but it didn't impact their league record.
After losing to Acalanes in the NCS semifinals last season, Eisner "really wants to see Acalanes lose."
About the Writer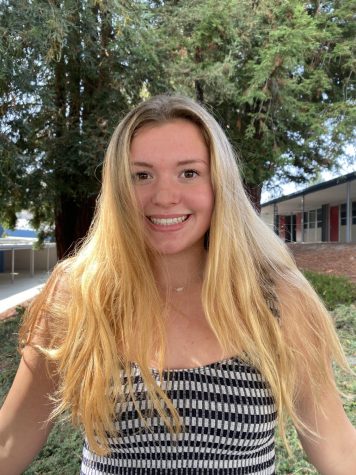 Nicole Kennedy, Opinion Editor
Senior Nicole Kennedy has played volleyball for 8 years and is currently on Campolindo's varsity team. She also played club volleyball at Red Rock East...