Girls' Lacrosse Struggles Through Early Season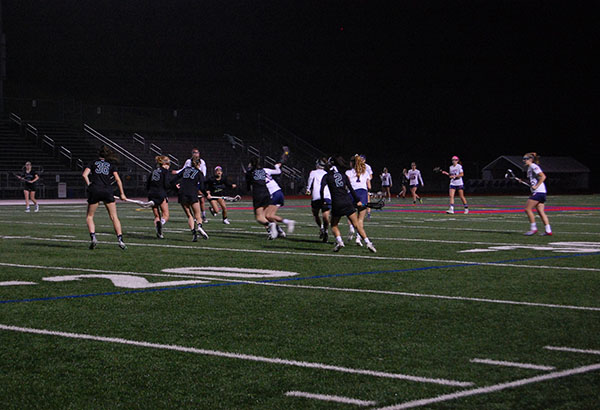 After disappointing loses to Acalanes and Monte Vista, the girls' lacrosse team faced rival Miramonte on March 22.
According to veteran Chloe Guthrie, the Matadors had already beaten both Acalanes and Monte Vista earlier in the season.  Nevertheless, Guthrie said, "we all came fired up and ready to give it our all."
While Miramonte showed superior speed and stick work, sophomore Hannah Westfall was able to score 4 goals in a row and put her team back in contention.  
"I think Hanna being able to kind of be pretty tenacious and decide she wasn't taking no for an answer and challenge a goal and get those 4 goals in there changed the whole tone of the game," said Coach Devon Combe.
Chole Guthrie scored 2 to help the Cougar's cause. Devon Ortman also managed to score.
Ultimatel, the Matadors prevailed, 9-7.
In spite of the loss, Ortman believed the team "played really cohesively," and that the "work we making as a team is paying off."
Combe attributes the rough start to their 2019 season to the delay in getting some of her players out for the season due to the overlap of the winter soccer season with the spring lacrosse season. Combe would like to see the spring season pushed back in order to have less overlap.
"It's terrible, a lot of coaches I've talked to, a lot of Pleasanton and Lamo coaches, want to push back the start date. I mean there is no reason. I mean NCS is on May 15 and you guys are in school until June. There is no reason why we start so early," said Combe.