Club Coaches Teach Rowing Technique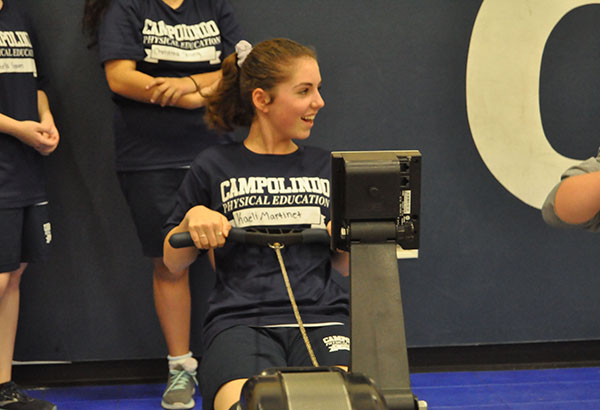 Coaches of the Oakland Strokes Rowing Club gave the freshman PE classes a presentation about the basics of rowing on January 28. Based in the Oakland Estuary, Oakland Strokes is 1 of the top rowing programs in the Bay Area and is always looking to gain new recruits. 
Last year at the national championships in June, their women's "lightweight 8" boat placed 2nd overall, aided by junior Isabel Wang. Recent Campolindo graduates Payton Frasure, Kate Miles, and Jessica O'Reilly also helped the women's "varsity 8" boat place 11th overall. Frasure and Miles are now competing for Harvard and Stanford, respectively.
Not everyone felt like the demonstration was time well spent.
"They have done it at my middle school every year and the PE teachers usually teach how to do the rowing the same way the Oakland Strokes people do it, so it's really unnecessary to waste 1 class period to teach us what we have already learned in the weight unit," said freshman Sarah Berten.
According to assistant coach Hannah Freedman, Oakland Strokes give the presentations in order to elevate the exposure of the sport. By coming to Campolindo, they can reach up to 300 new students, added Freedman.
Others found the presentation to be worthwhile, like freshman Finn Jordan. "Before that, if I ever did row I was definitely doing it improperly. After they came by I definitely know more about what I was doing," he said.
"We want to make sure people know about rowing and know that we are a really great outlet to participate and compete successfully in that sport," said Freedman.
Jordan said,  "If you're not into anything else then I definitely think that [rowing] is a pretty good option."