Girls' Soccer Defeats Minutemen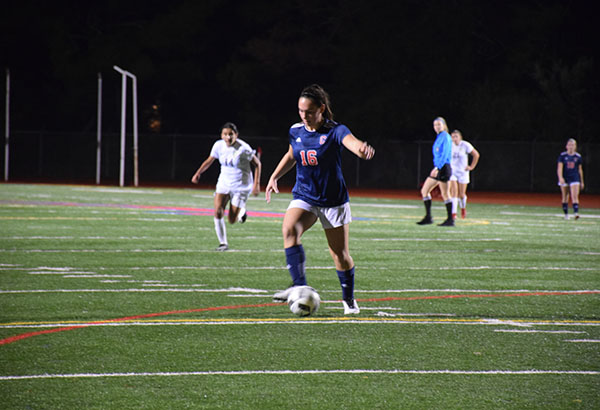 The girls' soccer team beat Concord High School, on January 9. It followed a disappointing tie with rival Acalanes after a 2-week long break due to winter vacation.
The Cougars began their match with a goal scored by sophomore Jojo Flower and another by junior Celia Campo.  At the half, the score was 2-0.
Head coach Luis Pinto said, "The game started a little bit slow but we picked up the intensity. We adapted to how the other team was trying to play. They came in with very high pressure so we struggling a little bit in the beginning. Once we settled down we solved that problem."
Yet, the Cougars did not enjoy the same offensive output in the 2nd half.
"[The girls] decided to go a little bit more long ball and we were worried about that long ball coming and us missing it because it is rainy outside, therefore, we did not push up as much," said Pinto.
Neither team scored in the 2nd half.
Ortman said, "We don't really focus on the other team, we focus on ourselves and what we can do to be our best every game. Even if we think that the opposing team won't be as good, we play like they are one of our rivals, like Miramonte or Acalanes, and try to come out strong from the beginning."
According to Pinto the "MVP for this game" was freshman Sami Koln due to her ability to "control well, receive, defend, distribute, and push the ball forward." He added that Koln performed well in the center back position despite never playing, or even practicing, in that position before.
Koln said playing in this new position was "pretty hard. I tried to switch the ball more and run more of the field."
The game was crucial in showing that "we are strong and can compete with each other," according to veteran junior Devon Ortman.  The team currently has a record of 4-2-2.  However, only 1 of those wins is against a league opponent.